Thunderstorms ravage area, cause nightmare on Elm Street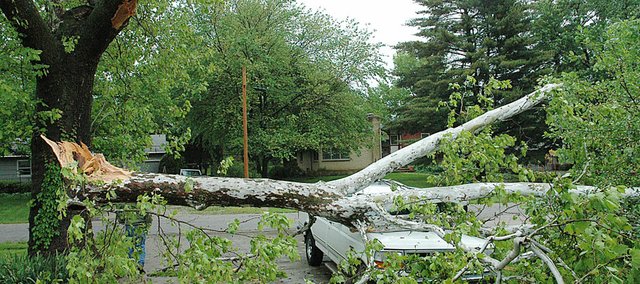 Photo Gallery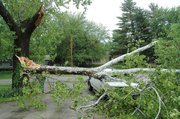 May 12 storm damage
Thunderstorms roared through the Baldwin City area Wednesday night and one burst around 11 p.m. caused extensive damage in Baldwin City on Elm Street and northwest of town near the Cedar Hill Gun Club.
Wednesday night's raging thunderstorm made for a nightmare on Elm Street.
"It was really to me," said Dave Richardson, who had two cars destroyed by a massive fallen limb at 233 Elm Street. "I didn't know initially what happened. I heard a pop after lightning. That's all I thought it was.
"I was in the basement and my wife hollered at me to come look," he said. "I went out and looked and the branch was across our cars."
Winds that he estimated to be more than 60 mph had snapped a huge limb off a towering Sycamore tree at 237 Elm Street. The limb crashed into a pickup there and continued into Richardson's cars next door.
"I think it's going to be a total on the Lexus," he said. "It's a 2006. I should come out OK. But this isn't an occurrence we wanted in the middle of the week. It's an inconvenience and not anything more than that. We were blessed."
Richardson said he was lucky on many accounts, especially that the limb didn't hit the house, no one was injured and one other thought he's had.
"We weren't pulling into the driveway at 11," he said.
Although thunderstorms had been battering Baldwin City and the area for most of the night, it was around 11:30 p.m. when the worst hit. Richardson's next door neighbor, Kyle Britton, a Baker University student, also felt lucky.
"Very," said Britton, whose cars escaped the falling limb. "It was a huge whoosh of wind. It sounded like a freight train coming at us. The doors started tick, tick, ticking. It was odd.
"We opened the garage door and saw a tree-sized limb had fallen on the neighbor's cars," he said.
It wasn't around long. Alan Wright, who owns the rental at 237 Elm Street, got a call right after it happened. He was there first thing in the morning.
"I made an early call to my tree guy and they got it cleaned up quickly," said Wright, as he was raking up the remaining small debris around noon. "They hauled off two truck loads."
Richardson credited that and the quick response and work by his insurance agent, Michael Sloan, for making everything better.
"It made me relax from the stress of it," said Richardson, who is disabled. "There's just a specialness about Baldwin. Everyone takes care of everyone else."
He also acknowledged that despite the problem, the sun did come up Thursday morning and the nightmare was over.
"It did come up," he said. "I woke up and everybody was still alive and kicking."
---
There was also heavy damage northwest of Baldwin City in the area of the Cedar Hill Gun Club. A story on it can be found here.