School board opts for tier-one cuts after news from state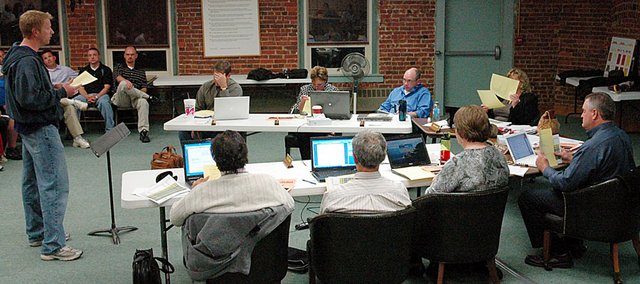 Potentially good news came Monday night for the Baldwin School District before the school board meeting.
On Monday, the Kansas Senate approved the state's $13.6 billion budget, which doesn't include any cuts to education funding. Later that night and into Tuesday morning, the Kansas House approved the $314 million sales tax increase to help fund the budget.
All of that meant good news for the Baldwin School District when Gov. Mark Parkinson approves the budget.
"They had to approve both pieces before we were sure what kind of cut or no cut we would get," Supt. Paul Dorathy said. "As of now, there are no cuts. Our base state aid per pupil stays right where it's at right now. Basically, next year we are not taking a cut in state aid.
"It is good news," he said. "Potentially, we could have seen up to $500,000 in state-aid cuts. You can't look at it any other way than it's a positive that they held us even and didn't cut us any more."
However, that didn't mean the school board didn't make any cuts Monday night.
"I do need to clarify, because of the cuts we've had and trying to prepare for increases that we have next year, we had to make some cuts last night," Dorathy said. "Also our board had to do some planning in those cuts for the chance that we might get hit in the middle of the year, like we did this year. We don't have places to make significant cuts during the middle of the year anymore."
The school board did approve the first tier-one cuts that it's discussed for several weeks. Those cuts include administrative reductions, replacing retiring librarians with aides, several teachers and a few other staff members. The entire list can be found on the district's website (www.usd348.com). The tier-one cuts total $393,776.
"Just because the state is holding us even, doesn't mean some of our costs don't go up, like health insurance," Dorathy said. "It's going up and we still have to pay it. We're also not sure how much at-risk money we are going to get next year. That's very volatile. I would like to replace the building supply budgets. There are just other needs we've got."
Also on the tier-one cuts were fee increases. That includes a $10 textbook fee increase, building rent increase and doubling the activity user fee to $80. It does leave off two hot topics that drew a large crowd Monday.
"It doesn't include closing a building or seventh-grade sports," Dorathy said. "It also doesn't change the school calendar for next year. At this point, that's what we are cutting for this year."
Board Member Ande Parks reassured the patrons who attended the meeting that seventh-grade sports were taken off of the tier-one cuts.
"I brought it up last week and I'm glad we had the discussion and everybody came out tonight and voiced their opinion," Parks said. "It's not on this tier one now and I'm comfortable with it not being on there."
Although the user fee is included in the increases, the school board hasn't approved the $80 fee. It was discussed briefly Monday, but the board members decided to table the topic until a later date.
"The board said it would like to wait until its normal time in July to make a decision on user fees," Dorathy said. "I don't really see the board increasing it any more. I could maybe see the board going less, but I don't know if they will. They've waited to make that decision until July."
The next school board meeting is June 7.