Patrons plea to school board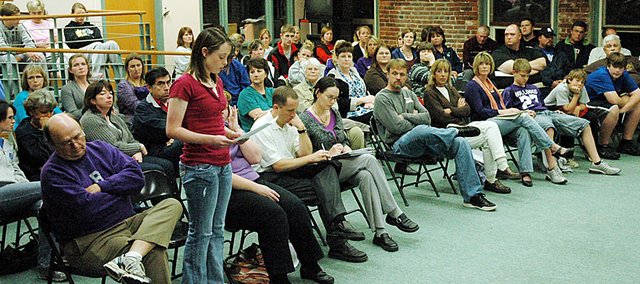 Baldwin School District patrons came out in droves Monday night to the monthly school board meeting.
Most of the patrons were there to support seventh grade athletics or speak about the possibility of closing one of the rural elementary schools. Of the nearly 90 people at the meeting, 37 stood up and voiced their opinions.
The strongest support group was the seventh-grade sports contingent. That group also included patrons who were against cutting activities, which are around 2 percent of the district's budget.
"If you cut 7th grade athletics, I want you to tell my 12-year-old son or any other 7th grader why they are less than any other student in this school district," Kimberly Wolff said to the school board.
At the May 3 meeting, the idea of cutting seventh-grade athletics was discussed by school board members. The Louisburg district has cut its seventh-grade sports programs for next year. The school board estimated the district could save around $25,000 if seventh-grade sports were cut.
On Monday, parents and students from Baldwin High School and Baldwin Junior High School came to speak their minds. Fourteen people stood up and said don't cut seventh-grade athletics during the public input portion of the meeting.
"Junior High athletics have the most participation in the district," said Darren Owings, a parent. "I don't understand why you would cut something that is participated in by so many students. I don't know why you would hurt those kids."
Owings even made the school board and a number of audience members laugh with one of his comments.
"You'd also be losing tradition," he said. "I'm from Wellsville and I understand there is some tradition in Baldwin."
Others were interested in the future of the programs, because they want their children to be a part of BJHS teams.
"I have two small children and I want them to play sports," Carrie Barth said. "My nephew will be in 7th grade next year and he is a great athlete. I hate to think I might not get to see him play next year."
It wasn't just parents that spoke Monday night. BHS and BJHS students also wanted their opinions to be heard. Abbi Carlson, a freshman at BHS, doesn't want athletics to be cut because many of her friendships were started during junior high sports' seasons.
"I can honestly say that most of my friends were made from being on a sports team," Carlson said. "I can make a list of my friends and most were on one of my teams."
Corey Valentine, a seventh grader at BJHS, wanted the board to keep seventh grade sports, even though the cut wouldn't directly affect her. She even handed the board a signed petition to keep seventh-grade athletics.
"It won't affect me, but I don't want sports to be cut," she said. "We won league titles in volleyball, basketball and track this year."
Valentine's mother, Marilee Valenetine, who is a teacher and coach at BJHS, said she was shocked when she heard the news last week. She also wanted everybody to know that sports aren't separated from education, although they are extra-curricular activities.
"When I heard about this, it floored me," she said. "Education and sports go together. There is so much that kids can learn from sports. Hard work and discipline are just a couple."
Brenda Shawley, also a BJHS teacher and coach, reiterated M. Valentine's point. She talked about how her teams are honored by the Kansas State High School Activities Association for team grade-point average. Shawley said that excites her more than winning, because she knows her team members are excelling in the classroom, too.
Ed Kite also agreed with M. Valentine.
"I don't view this dilemma as sports versus education," he said. "It's all education. If you spend equitably, we can give students a good education that includes sports, art and other programs in this district."
However, some patrons of Marion Springs and Vinland elementary schools didn't see how sports were as important as teaching young children.
"I think it's the lesser of two evils," said Jill Cannon, who teaches physical education at both rural schools. "I have to say seventh-grade athletics aren't as important as teaching elementary students."
Although seventh-grade athletics drew a lot of attention Monday, the other hot topic was the possibility of closing one or two rural elementary schools. Several parents felt strongly that now is the proper time to close the buildings.
"It is time to combine our four elementary schools," said Amy Berg, a parent and former kindergarten teacher in the district. "They are all great schools, but what makes each school great isn't the building, it's what's inside those buildings. We may find out that we get something even better if we combine our schools."
Ashley Strand, who teaches a third- and fourth-grade combined classroom at MSES, quickly disagreed with Berg.
"There is never a good time to close one of those schools," Strand said. "Bigger schools aren't good for every student."
Several other patrons spoke after Strand and Berg. Some were in favor of closing the schools, while a few others want their schools kept open.
One of the final comments of the night came from Brad Wright. He gave the board something to chew on for the rest of the night.
"I think the board has to decide if we're going to be three districts or one," he said. "Bottom line is are we three districts or are we one district?"