Kehl resets shot put record as
BHS

girls win Redbud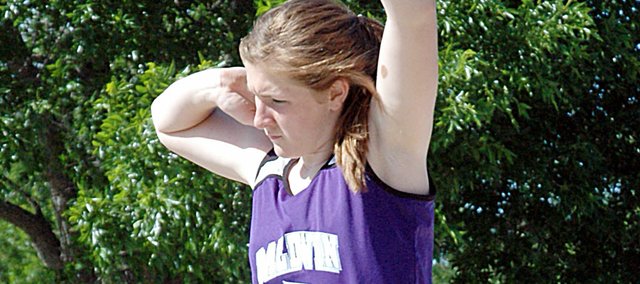 WELLSVILLE — Katie Kehl's return to her former school brought her good luck Friday.
After years of attending school in the Wellsville district, Kehl transferred to Baldwin High School this year. The BHS freshman already made an impact on the track and field team when she broke the school record in the shot put at the opening meet.
Kehl did play basketball at Wellsville this winter, but Friday's meet had a different feeling to it.
"It makes me happy, because I get to show everybody here," Kehl said. "I have some mixed emotions about it."
She showed them that she can win the shot put at the Redbud Classic. Her throw of 40-feet, 9 inches also broke her school record that was set earlier in the season.
"I'm really excited, because I broke the 40-foot mark," Kehl said. "I haven't PR'd since the first meet. I was feeling kind of low, but now I'm really happy. I got out of my slump tonight, so I'm happy."
Kehl launched the winning throw on her last attempt. When the distance was read, her face lit up with a smile.
"At the beginning of the year, I said I'd like to get 40 feet," Kehl said. "I had never thrown an eight-pound shot put, so I wasn't sure if I could."
Her victory in the shot put was just one of seven events the BHS girls' team won Friday en route to winning the team title. BHS scored 121.3 points to win and beat second place Louisburg by 40 points.
"I was very happy with how our kids competed on a windy cold day and were able to win our 6th meet in a row," girls' coach Ted Zuzzio said.
In addition to winning three relays, the Bulldogs won three individual races. Senior JaBryanna Wellington won the 400-meter dash in a time of 1:00.5. The victory earned her the traveling plaque for the second straight year. Wellsville gives a plaque to the boys' and girls' winner of the 400 each year.
Junior Ramie Burkhart continued her success in the 300-meter hurdles. She took the lead with 100 meters remaining, but Paola's Timmie Morris was closing on her fast. At the finish line, Burkhart held off Morris for the win, in a time of 47.6 seconds.
"I've been working on getting into the 47s," Burkhart said. "It was exciting, because I had competition tonight. I had to hold her off and I got it."
Baldwin's other victory was in the 800-meter run. Freshman Kaitlyn Barnes cruised to victory, running 2:22.
Barnes also helped the 1,600- and 3,200-meter relays win. The 1,600 relay ran 4:11.9 and the 3,200 relay ran 10:09.3, winning by 28 seconds. The 1,600 relay members were senior Connor Twombly, sophomore Elizabeth Sigvaldson, Wellington and Barnes. The 3,200-relay team consisted of sophomore Carol Whaley, Twombly, Sigvaldson and Barnes.
The BHS 400-meter relay team of junior Myranda Behrens, freshman Monica Howard, Burkhart and Wellington won its race. The relay ran 52.2 to win.
"It was a good day," Burkhart said. "I PR'd in both of my races and we got Myranda back on the 4x100 and ran our best time in about four weeks."
The Bulldogs finished runner-up in three events. Kehl was second in discus with junior Allison Howard placing third. Kehl threw 118-11.5, while Howard's mark was 118-6. Freshman Sienna Durr finished second in the 3,200-meter run in a time of 12:08.8. Freshman Jessica Katzer threw 111-10 to place second in the javelin.
On the boys' side, the Bulldogs placed fourth as a team with 65 points. Paola won with 111 points. Louisburg and Osawatomie also finished ahead of BHS.
"The three teams that beat us on the boys' side are all teams that could be contending for a state title," boys' coach Spielman said. "They all have the kids to win state as a team."
Baldwin swept the thrower's relays this season. BHS ran 49.2 to win its third thrower's relay. Team members are senior Patrick Pinault, junior Jesse Austin, sophomore Jake Mindez and freshman Dayton Valentine.
Junior Tony Weiss had a big day for Baldwin. He won the 3,200 run and broke the 10-minute barrier for the first time this season. He ran 9:58.7 and won by 31 seconds.
"I relaxed a little bit more," Weiss said. "I didn't get so tense and stressed out. I listened to my music before the race and got myself ready to run a nice race."
Weiss finished runner-up in the 1,600-meter run earlier in the day. His time was 4:41.6. He also helped the 3,200 relay finish second. Other relay members were sophomores Brian Wright, Chip Kueffer and Tosh Mihesuah.
"Tony had a great day," Spielman said. "He ran a great triple. He ended it with a 9:58 two mile, which is a great accomplishment. He is really starting to feel well."
The BHS boys' 1,600-relay team again improved its time. The Bulldogs finished second in a time of 3:28.6. Relay members were junior Carson Barnes, junior Josh Hoffman, sophomore Asher Hannon and sophomore Dayshawn Berndt.
Berndt finished runner-up in the 200-meter dash. He ran 22.2 and lost by 0.1 of a second.
Baldwin will compete in the Frontier League meet today in Gardner. The field events will begin at 3 p.m. with the prelims at 4:30 p.m. and finals at 6 p.m.