BJHS

track teams compete well at league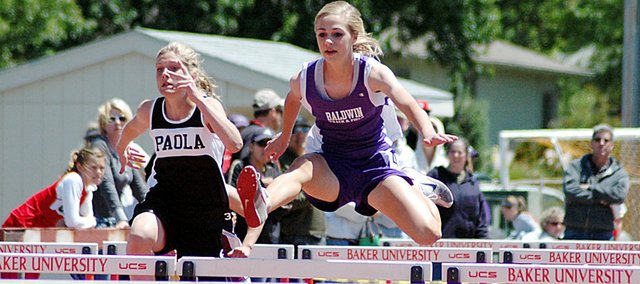 Last weekend's Frontier League track and field meet was a nice homecoming and finale for the Baldwin Junior High School teams.
The Bulldogs broke one school record, tied another, won 12 events and won one team title. Both coaches were happy with the results.
"League is like no other meet we go to in that we have prelims and finals," BJHS girls' coach Angie Spielman said. "They have to work through that. Plus, it's a long day and the best competition we see all year. But we competed well and I'm proud of our kids."
BJHS boys' coach Bench Currie was also pleased with his team's effort.
"It was a good meet for us," Currie said. "We had a lot of kids compete well. I know some were disappointed, but others were excited about their performances."
Leading the way in the team scores was the seventh-grade girls. They won the team title with 90 points, which just edged out Louisburg (89). The team championship came down to the final race — 1,600-meter relay.
Baldwin won the race by three seconds. BJHS ran 4:48.73 while Louisburg finished second in a time of 4:51.91. Competing on the relay were Corey Valentine, Maddie Ogle, Jordan Hoffman and Molly Ogden.
"It was a very exciting end to a really good meet," Spielman said. "We had to beat Louisburg in the 4x400 to win it. All of the girls stepped up and did a really nice job in all of our events."
The seventh grade girls' team scored in many events. Hoffman won the shot put and discus. She threw 35-feet, 6 inches in shot put and 84-11 in discus to win both events. Her shot-put mark set a new school record by 0.5 of an inch.
The Bulldogs also won two other individual events. Valentine won the 100-meter hurdles in a time of 18.66 seconds. The other winner was Molly Ogden in the 1,600-meter run. She narrowly beat Sydney Dixon of Louisburg, as she ran 6:04.14, just 0.09 ahead of Dixon.
"We scored in every event, except two," Spielman said of the seventh grade girls' team. "Our 4x100 got disqualified and we didn't have a high jumper."
On the eighth grade girls' side, Baldwin finished third as a team behind Pioneer Ridge and Paola. BJHS was led by Morgan Lober, who won her three individual events and helped the 1,600 relay place third.
Lober began the day with a victory in the 100 hurdles. She ran 17.43 to win her first event. Her next event was the 400-meter dash and she set a league record running 1:01.08, which beat the former record by 0.16. Lober's final individual race was the 200-meter dash. She won in a time of 28.26.
"Morgan had a great meet," Spielman said. "She had three firsts and a third. She also got the league record in the 400. She had a great day."
Katie Jones tied the BJHS record in the pole vault. She cleared 7-6 to tie the record and finish runner-up in the event. Jenna Irey also placed second in long jump with her 14-foot mark.
Baldwin's eighth grade boys placed fourth as a team with 71 points, just four points out of third.
"The eighth graders were sitting sixth until the last race," Currie said. "They won it and that propelled them into fourth place. It was a close race down to the end."
Ethan Hartzell led the Bulldogs with three victories and a runner-up finish. He anchored the 1,600 relay to victory, boosting the Bulldogs into fourth. The relay ran 4:06.
"It was a close race," Currie said. "The kid was ahead of Ethan and I wasn't sure Ethan had anything left, because he had three events earlier in the day. Then he went around him and crossed the line right in front of him. It was the difference between sixth and fourth place as a team."
Hartzell also won the high jump by clearing 5-5 and the 1,600 run. He ran 4:56.73 to win by 24 seconds. It was his first time breaking the 5-minute barrier. His silver medal came in the 800-meter run, where he ran 2:16.85.
"Ethan was league champ in three of his four events," Currie said. "He picked up a lot of hardware on Saturday."
Chad Berg also scored many points for the Bulldogs. He ran the fastest time in the prelims of the 100-meter dash, but was beaten in the finals as he finished second, running 12.44. Berg also placed second in the long jump. He jumped 18-1 and lost by 1.25 inches.
"Chad was really close to winning the long jump," Currie said. "He was kind of disappointed, but he's jumped further this season. Then his prelim time in the 100 was the fastest time anyone ran, even after the finals."
The BJHS seventh grade boys' team finished sixth. The Bulldogs scored 23 of their 34 points in the two throwing events. Clayton Saving won the shot put with a mark of 36-11.5. Saving also placed third in the discus and Evan Jones finished fourth. Christian Gaylord placed seventh in the shot put and sixth in the discus.
"Our throwers performed well on Friday," Currie said. "It was windy, but they still had some great throws.
Full results from the meet can be found at www.tickertiming.com.