Founder's Day returns to Vinland Elementary School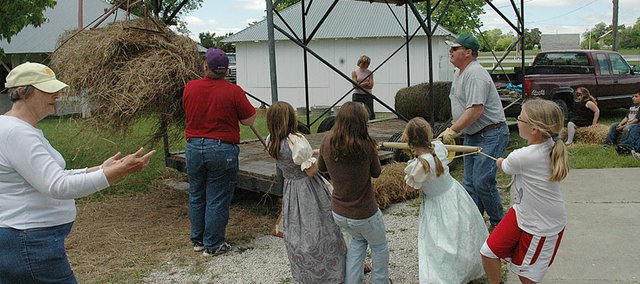 There was a rebirth of sorts at Vinland Elementary School Tuesday. History came back to life.
After a hiatus of several years, the rural grade school in the middle of the Vinland Valley celebrated Founder's Day. All the teachers and most of the students dressed up in old-fashioned clothes and took part in historic events, such as old-fashioned haying, throughout the day.
"Yeah, we hadn't had it for several years," said Loretta Verhaeghe, longtime Vinland teacher. "We brought it back this year. We stirred it back up. It was fun."
Founder's Day was celebrated at the school for the first time in 2000. It included tours of various historical sites around Vinland. Tuesday's event was similar, but also included new events, such as the dedication of a new fountain area at the school.
But it's history that the day is about most. A reader's theatre was the first event, with the history of famed 1800-era Vinland residents such as Charles Dow, William Barnes and James Naismith recalled.
The students also toured historic sites, such as the Grange, Coal Creek Library, Stony Point Church and the old William Barnes home, which the Maycock family opened for the event.
"It's to show the true meaning of community, what it was like then and what it's like now," said Verhaeghe. "It was a success. It was a good day."
Even Supt. Paul Dorathy joined in on the event. It had stopped in 2005, before he took over as the leader of the school district.
"I thought it was a real neat event for our students, staff and the adults that were there," said Dorathy. "I found the history very interesting. I had a chance to sit in and listen to Danny McMillen talk about the history of his family in the area. I just found that very interesting. The students were also paying really close attention to him. I just thought it was a neat event that showed the history of the area and the community.
"I thought it was a very good event and very worthwhile for the students out at Vinland," he said. "We haven't had the event since I've been superintendent. I really enjoyed it."