School board talks more athletic cuts, fee increases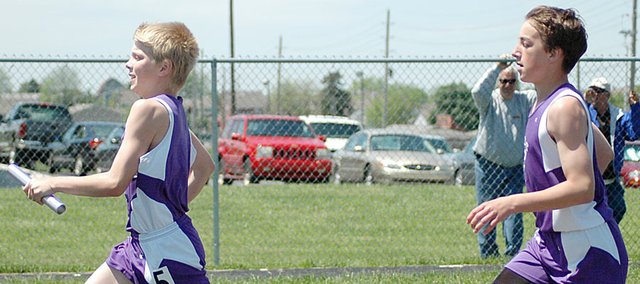 Athletics and activity user fees were once again the subject of the Baldwin School Board's budget meeting.
On Monday night, the school board added seventh-grade athletics to the possible chopping block and proposed a lower user fee increase than planned last week. On the other hand, co-curricular activities, such as high school forensics, are still up for discussion at the next meeting.
The school board is proposing the cuts as it prepares for a significant budget cut from the state legislature for the 2010-2011 school year. Supt. Paul Dorathy said the district could be cut around $500,000, but that's all dependent on what the legislature decides during the coming weeks.
"They have tentatively talked about $300,000 worth of cuts," Dorathy said of the board. "They haven't absolutely nailed that down yet. They still have a couple hundred thousand dollars to plan for, so they still have some work to do Monday night. They've taken a lot of cuts from a lot of areas to get to this point."
During the board's activities discussion, Board Member Blaine Cone proposed increasing user fees by $50 and cutting seventh grade athletics, which was brought up earlier in the meeting by Board Member Ande Parks. That proposal would save the district around $45,000, which is near the amount it was aiming to save with a significant user fee increase.
"That's one thing we could do that other districts have done," Board Member Bill Busby said. "Hopefully, it would be temporary."
Baldwin wouldn't be the first Frontier League district to cut seventh-grade athletics. The Louisburg School District officially made the cut earlier this year. Baldwin would save approximately $24,000 with the cut. The majority of that savings includes coaches' salaries, transportation and officials.
The other half of that $45,000 savings would be increasing user fees. At the April 26 meeting, the school board proposed a significant increase to user fees at Baldwin High School and Baldwin Junior High School. The fees were $40 this year, but the board wanted to increase those to bring in $50,000 revenue to offset the cost of activities.
On Monday, Cynde Frick, director of financial operations for the district, said the fees would have to be increased to $130 to bring in $50,000. She figured that cost using the number of paying students, since some pay reduced fees if they receive free or reduced lunches.
"I thought it was high. It is a $90 increase," Board Member Scott Lauridsen said. ""My hope was that doubling would get us there, but it looks like that would only get us half."
The board decided that doubling the fee to $80 next year would be a good starting point. They didn't vote on it, but it was added to the list of potential budget cuts and savings.
"The board thought that $130 is too much, so they decided to double what the current fee is now," Dorathy said. "The present fee is $40 per sport per student, so they tentatively put it at $80 for next year."
The school board also discussed a shortened school year. If that was implemented, school days would last 15 minutes longer, but there would be eight full days removed from the calendar.
"We had a lot of discussion about that and I talked with the administrative team today and they are worried about that semester break," Dorathy said. "The first semester is already short. If you put all eight days at the beginning of the year, that shortens the first semester even more."
Another idea, which was brought up during public comment, was new facility money for the Baldwin Elementary School Primary Center. The district will get ¼ of the per-pupil base (around $1,000) for each student in the building for two years.
"If we can open that building in August, as we have planned, we would get new facility weighting dollars for every student in that building," Dorathy said.
The school board will continue its budget talks at the next meeting. It will be the regular monthly meeting, which is set for 6:30 p.m. Monday at the District Office.