Four-run seventh inning propels Bulldogs over Eudora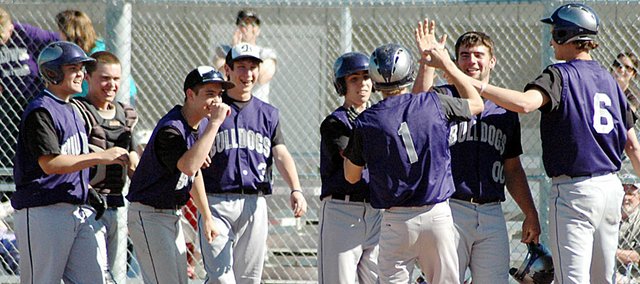 Photo Gallery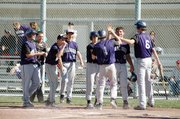 BHS baseball versus Eudora
Baldwin High School's baseball team used early and late fireworks to rally from a possible sweep to rival Eudora into a split doubleheader at home Tuesday.
The Bulldogs blew a six-run lead in the opening game, which spilled over into the second contest. Eudora lit up the Bulldogs for nine runs in the first inning and the future looked bleak for the Bulldogs.
Six innings later, a passed ball opened the door for a heroic comeback. After losing 9-8, Baldwin (6-10) beat Eudora 13-12.
"In the first game, they came back on us, just like we did in the second game," coach Brock Hartshorn said. "After we came off, we were a little down in the first inning of the second game and we didn't play well in that inning. Our kids came off the field with their heads hanging, but they grouped up and said, 'Let's battle back here.'"
After Eudora's nine-run first inning, Baldwin slowly crept back in the game. BHS scored one run in the first, five in the second and three in the third inning to tie the game. The Cardinals took their 12-9 lead in the sixth and seventh innings.
Facing a three-run deficit and three outs before the sweep was complete, the Bulldogs took to the plate. Sophomore Tyler Brenn and freshman Tyler Cawley were walked to start the bottom of the seventh. Freshman Taylor Hartshorn loaded the bases after being hit by a pitch in the lower back.
The Bulldogs' next batter nearly cranked a walk-off grand slam. Junior Josh Hoffman's shot to left-center field would have left the park earlier in the day, when the wind was gusting from the south. Instead, the wind was calm at 9:45 p.m. It didn't matter, as his blast bounced off the warning track and over the outfield fence.
"It was odd for your seven, eight and nine hitters to get walked, walked and hit by a pitch," coach Hartshorn said. "I thought Josh's hit was out and the game was over, but that gave us runners at second and third."
Hoffman's two-run ground-rule double pulled the Bulldogs within one run. Junior Justin Vander Tuig once again became a pinch runner, this time for Hoffman. With runners on second and third and one out, junior Kyle Pattrick took one swing for the game-winning hit. After taking the strike, Pattrick laid down a bunt that scored T. Hartshorn from third base. The game was now tied 12-12.
Pattrick stole second base before Eudora walked junior Landon Ausherman to load the bases once again. Sophomore Hunter Burkhart, who homered twice in the opener, followed with a pop out to give BHS two outs. The next batter was junior Connor Sublett, but he never needed to swing.
Vander Tuig once again used his pinch running skills to slide head first past the Eudora pitcher on a passed ball. His game-winning run lifted the Bulldogs to a 13-12 victory.
"It was an exciting win for the guys," coach Hartshorn said. "They wanted to get Eudora. It's one we circle on our calendar. That was a good win for these kids. We had lost three straight one-run games, but now we got one."
Baldwin lost two games to Wellsville on Saturday, 7-6 and 3-2.
Burkhart agreed with his coach, saying the victory was a total team effort.
"I was pretty proud of everybody," he said. "Honestly, I thought we were done, but we kept fighting and came back to win. We got the bases loaded and got a few home to win. It was a great finish."
The first game of the doubleheader was nearly the opposite. Baldwin led 8-2 heading into the sixth inning, but Eudora rallied and won 9-8.
Burkhart provided the Bulldogs with fireworks early in the game. He hit a three-run home run in the first inning. He followed that with a two-run bomb during his next trip to the plate in the third inning.
"I was pretty pumped," Burkhart said. "They were back-to-back homers for me. It was pretty sweet."
The Bulldogs' coach was proud of his team for fighting back Tuesday.
"We only have 10 kids on our varsity right now, because of injuries and stuff, but those 10 are coming to practice every day and it's paying off for them," Hartshorn said. "We started 0-5 and we're now 6-10. We're getting better."
Baldwin will play a doubleheader at Gardner on Monday and then host Santa Fe Trail for a single game Tuesday. Both start at 4:30 p.m.