Council updated on pool during Wednesday meeting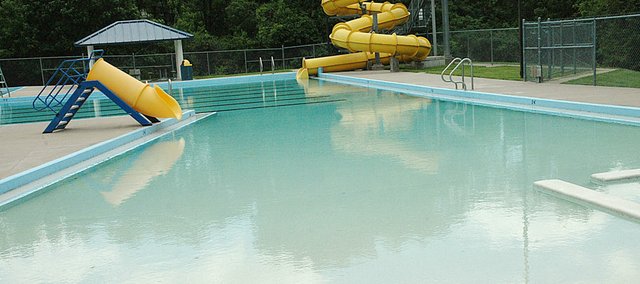 Summer can't be far away. There's water in the Baldwin City Municipal Swimming Pool.
That's what the Baldwin City Council learned Wednesday night from Steve Friend, director of the Baldwin City Recreation Commission, which operates the pool for the city. The pool news was the majority of Friend's report, which was one of the few items on the agenda other than routine business.
"Water's in the pool," said Friend. "Nothing has changed on our rates. We've got 10 to 12 people taking lifeguarding classes.
The pool is scheduled to open on May 29 and close on Aug. 18, if the school district's calendar stays the same for the first day of school, he said.
"It's going to be about 100 days, give or take," he said of the days the pool will be open.
He told the council about the rates being the same as last year, when season passes were added, in case they heard complaints. Friend said to direct people to the recreation commission if they wanted an explanation.
"We're not trying to make money, we're just trying to stay ahead," he said.
The pool had lost money for years until Friend took over as BCRC director. He was praised for his efforts in that and other areas.
"I just think since you've come, Steve, you've put together some real good programs," said Council Member Bonnie Plumberg.
The only business items, besides paying bills, for the council were making annual designations and appointments. Reappointed were City Attorney Matt Hoy and Municipal Court Judge Connie Sams. The council had also been asked to appoint someone to a new bike advisory committee being formed in Douglas County. Gerard Arantowicz was appointed to the committee.
For the second year, a city treasurer wasn't appointed. The position pays $165 per month for someone to sign checks, move certificates of deposit around and other minor tasks. Mayor Ken Wagner said he had no one in mind for the job and told the council if they do, to let him know.
"We went without a city treasurer last year and I don't think it caused any major problems," said Wagner. "To me, it's a way to save $165 a month."
He also told the council he wanted to wait to make appointments for council members to various committees until he's had a chance to talk to each of them regarding their preferences and schedules.
The council also designated Baldwin State Bank, MidAmerica Bank and Kansas State Bank as official depositories. The Baldwin City Signal was designated as the city's official newspaper.
The council met Wednesday instead of the usual Monday because there wouldn't have been a quorum Monday because Council Members Robin Bayer and Mike Magers couldn't attend. Magers was at Wednesday's meeting, Bayer wasn't.