BHS

takes the cake at De Soto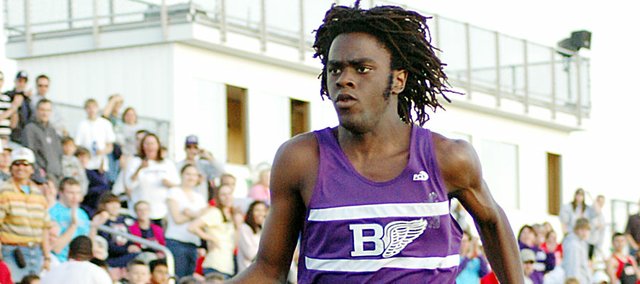 Photo Gallery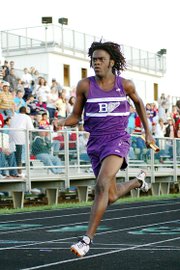 Baldwin High track at De Soto Invitational
DE SOTO — When chocolate cakes were on the line, Baldwin High School track and field teams beat out the competition here Friday.
Instead of winning medals, the Bulldogs were awarded delicious cakes for winning the 400-meter throwers' relays at the De Soto Invitational. The other teams were given cupcakes and brownies, but BHS took home the top prize.
"They got their cake and got recognized in front of the crowd," BHS boys' coach Mike Spielman said. "That was a neat deal for them."
No official times were kept for the races, because they didn't count toward team points. However, Baldwin won both races with ease.
Running on the BHS boys' team was senior Patrick Pinault, junior Jesse Austin, sophomore Jake Mindez and freshman Dayton Valentine. The BHS girls' relay members were junior Allison Howard and freshmen Heidi Halford, Katie Kehl and Chloe Kueffer.
"That was awesome," Austin said. "There were a lot of guys smaller than us, but we were still able to win. That was pretty awesome. I would have liked a medal, but the cake was good, too."
The Bulldogs didn't need the points from the throwers' relays to win the meet. Both BHS squads cruised to victory at their first-ever time competing at De Soto. The girls' team scored 144 points to beat second-place Tonganoxie (100), while the BHS boys' squad had 135 points to beat runner-up Eudora (90).
"We had an excellent meet," Spielman said. "We scored in a lot of events and we scored well. We also had a lot of event winners. All four of our relays won. I was really happy with our whole team Friday."
Baldwin won 18 events and collected 39 medals. Included in those victories are all eight relays. Those are the throwers', 400-, 1,600- and 3,200-meter relays.
"We competed very well," BHS girls' coach Ted Zuzzio said. "We won every relay and we competed well in every event."
BHS won six individual races on the track and four field events. The boys' squad won the 800- and 1,600-meter runs. Sophomore Brian Wright ran 2:03.59 to win the 800, while junior Tony Weiss took gold in the 1,600 with a time of 4:46.74. Weiss also finished second in the 3,200-meter run.
On the girls' side, Baldwin was victorious in 100- and 300-meter hurdles, as well as the 400-meter run and 800. Junior Lyndsey Lober won the 100 hurdles going away in a time of 15.81. Junior Ramie Burkhart, who finished runner-up in the 100 hurdles, won the 300 hurdles by more than 2 seconds, with a time of 49.09.
Senior JaBryanna Wellington earned gold in the 400, as she ran 60.66, also winning by nearly 2 seconds. Freshman Kaitlyn Barnes continued winning the 800 run this season. She finished her race in a time of 2:23.38.
"We're getting better," Zuzzio said. "That's the exciting part. We're competing and that's all you can ask for."
In the field events, Baldwin swept the discus, won the boys' shot put and boys' pole vault. Kehl threw 123 feet, 2 inches to win the discus, just ahead of Howard, who finished runner-up. On the boys' side, Austin threw an 8-foot personal best distance of 145-2 to win.
"My PR went up by like eight feet," Austin said. "I wasn't expecting that in this wind. I was hoping to break 130, because of the wind, but I was excited to throw 145."
The Bulldogs finished first and second in the boys' shot put. Valentine won with a toss of 44-4, which was just a few inches ahead of Mindez. Junior Carson Barnes cleared 11-9 to win the pole vault.
"They keep getting better and better," Spielman said. "Jesse had a huge PR in the discus and won it. Dayton threw well and won the shot put. Jake Mindez had a PR and got second."
Baldwin will continue its season Friday in Wellsville at the Red Bud Invitational. The field events will start at 3:30 p.m., with the 3,200 relay starting at 4:30 p.m. and the preliminary races beginning at 5 p.m.
"It ought to be a quality meet," Zuzzio said. "There are around 22 or 24 schools coming to the meet. It's good and there will be great competition."