BHS

softball drops pair to Cardinals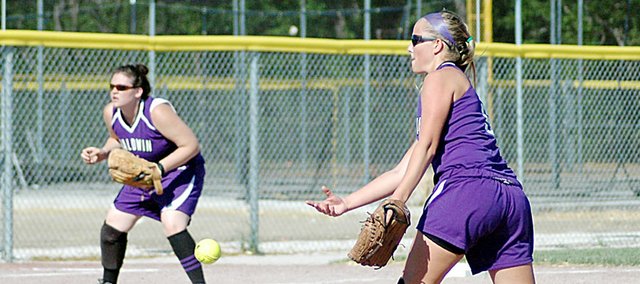 Photo Gallery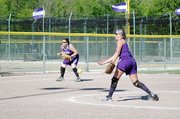 BHS softball versus Eudora
MacKenzie Flory had happier thoughts about her senior night before games began.
Tuesday night's losses to rival Eudora weren't what she had in mind. The lone senior on the Baldwin High School softball squad hoped the Bulldogs would be on top of the sweep, instead of the losing end.
Unfortunately, the Cardinals spoiled her senior night and pre-birthday plans. They beat Baldwin 6-4 and 10-4 in the Frontier League contests.
"Our last three games have been really rough," Flory said. "I think lately we've been having trouble adjusting to the pitchers. I think a lot of it is also mental."
Baldwin split its doubleheader with Prairie View on Friday. BHS won the first game 11-4, before losing 6-2 in the second contest.
"Our biggest competitor is ourselves," Flory said. "I also feel like we try so hard to not let ourselves down that sometimes we think too hard instead of just playing the game as it comes to us."
BHS coach Bob Martin shared the same sentiment as Flory.
"The only thing you can say is that we are beating ourselves right now," Martin said. "We're just giving the other teams too many opportunities and we're not taking advantage of our opportunities. We're just doing things that are hurting us right now. We have to get better."
In the first game Tuesday, Eudora jumped out to a 4-0 lead after the first pair of innings. Baldwin remained scoreless until a strong fifth inning.
Flory hit a three-run triple that bounced inside the left field foul line before rolling into the corner of the field. Her hit scored sophomore Madeline Brungardt, junior Morgan Burton and junior Karlee Beach. Sophomore Kaysha Green scored first in the inning off a Beach RBI.
"That was nice," Flory said. "It felt good and it was really exciting. I was hitting pretty good in that game."
The Cardinals answered in the top of the seventh inning. Their first two batters reached second and third with no outs recorded. The next two batters bunted, scoring each girl from third base. Those two runs proved lethal as they won 6-4.
"We did a nice job of coming back," Martin said. "Then they slipped in a couple runs in the last inning and we weren't able to respond to it. It's not that we are quitting, we are hanging in there and playing tough."
The second contest was a 1-1 game after the first inning and remained tied through three. Then Eudora poured on the offense, scoring five runs in the fifth inning, one in the sixth and three in the seventh.
Baldwin scored two in the bottom of the seventh, but it wasn't enough. Juniors Aspen Brooks and Kyla Good scored on a single from sophomore Alexis Finucane.
"We scored four runs in both games and there's a lot of softball games you win scoring four runs," Martin said. "We're just giving teams too many outs and we just have to improve upon that and we'll be fine."
Baldwin will play at Gardner on Friday and then host Saint James Academy on May 13. Both are doubleheaders and will begin at 4:30 p.m.
"We have some big games coming up, but I think if we come out and play hard from the beginning, we have a chance to win," Flory said. "We always have a chance, but we don't always believe in ourselves."