Hereditary disease devastates families, but not the faith of a Baldwin City woman
Couple share journey with Huntington's disease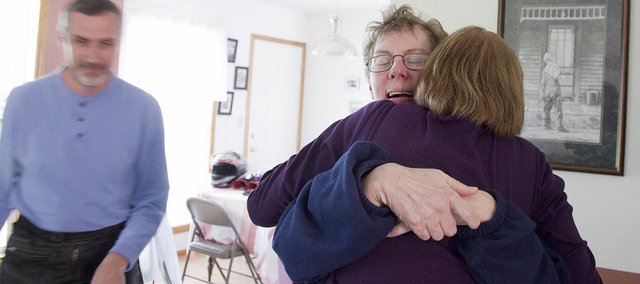 As I visit with 48-year-old Sara Schmanke in her living room, she can't sit still.
She lifts her leg, pauses and then crosses it. Then, she sits up straight. She makes a random facial expression.
The jerky movements are fairly constant, but she can't help it. She has Huntington's disease. It's a disorder passed down through families in which certain nerve cells in the brain waste away or degenerate. It commonly affects muscle coordination and cognitive functions.
She speaks in fairly simple sentences and her words are a little slurred. She makes uncontrolled sounds while I am talking: "Uh-huh. Uh-huh. Yep." It's part of the slow, progressive disease.
She said her short-term memory isn't as good as it used to be. For example, she can't write down a phone number after being told the number.
Her husband, Dean, 47, said Sara can become overwhelmed with too much information.
"We can go to an ice cream place and be there 20 minutes just because there are so many choices," he said.
He misses Sara's ability to weigh in on decisions, such as buying a vehicle. Not long ago, he sat down with her and went over prices, fuel economy, and accessibility for a few vehicles. But that much information overwhelmed her. He could tell she was becoming stressed and backed off.
"It can be hard because you want to share information, but sometimes you can't because it's just too much," Dean said.
He also said having a daily routine is important to Sara's health. If they take a trip, he outlines the plan for her.
The Baldwin City couple were married in 1993, and she received the diagnosis six years later at age 35.
"I knew about it beforehand," Dean said. "She was up front about it. She said there was a 50-50 chance that she had Huntington's. I said, 'That's all right.' That didn't bother me."
The disease
Huntington's disease, commonly called HD, is passed from parent to child. There is no cure, and people usually live about 20 years after the onset of visible symptoms. They typically die of pneumonia, heart disease and suicide. Other risks include choking, injury from falls, and malnutrition.
The onset of symptoms can appear anywhere from age 2 to 90, but typically shows up in midlife. The younger the age of onset, the more rapid the progression of disease.
It is estimated that 30,000 people have the disease nationwide.
Greg Suter, executive director of the Hereditary Neurological Disease Centre in Wichita, which specializes in HD, estimates about 600 people in Kansas have the disease. He said it's difficult to track because many people don't get tested for the disease, even though they may be at risk. Others, who have it, try to hide it.
"It's a rare disorder," he said. "It's hard to count when you have people hiding under a rock."
According to the Kansas Department of Health and Environment, it is not a reportable disease.
In 2008, 12 Kansans died from it.
Sara is the youngest of 10 siblings, and some of them have the disease. Their mother was diagnosed with HD in her 30s.
"There are no hard, fast rules or regulations to this disease. You never know from day to day," Dean said.
About one year ago, Sara's balance and coordination deteriorated and her falls became more frequent, so she started using a walker. She also decided to quit volunteering at a nearby nursing home because it was difficult for her to get back and forth by foot or bicycle, and she can't drive.
"He's my driver," she said, of her husband.
Another common symptom of HD is risk of aspirating food and drinks. Sara uses a straw to drink with, and her husband cuts her food into tiny bites.
"I am still able — at least right now — to take care of myself during the day. I don't cook, but I can sure microwave," she said, laughing.
Sara said simple daily tasks can be time-consuming.
"Slow to walk. Slow to eat. Slow to shower. Slow to do all of those things, but I can still do it right now," she said.
Despite the illness, Sara has a good sense of humor.
"I can clear crowds," she joked about the horn on her walker.
Great support, faith
She enjoys reading the Bible and other inspiring stories. She is reading a book about a blind missionary. It is becoming difficult for her to follow the lines of type. She plans to switch to audiotapes when she can't read anymore.
Sara and Dean are members of a Huntington's disease support group in Lawrence, which meets monthly. It regularly has 16 people in attendance, but can have upward of 35.
The couple attend to learn about new research and share ideas. If Sara is showing a new symptom, Dean can ask other members if they've experienced it and, if so, how did they adapt.
"It's kind of a place for gathering and sharing information," Dean said.
Sara added, "It's nice to share what's going on in your life or listen to other people."
Their source of strength is God.
"He is the one — the one that's helped me to not see this as something I should fear or something I should hate," Sara said. "I rely on him for his strength and help."
She also credits her husband, an associate pastor at Calvary Chapel of Johnson County in Olathe.
"He's the love of my life," she said. "I am blessed to have him."
They look forward to "Friday Night Date Nights."
Dean said it's hard to find one word to describe his wife. "Easy-going," "loving," "affectionate," "empathetic," "funny" come to mind.
Then, he decides on "blessing."
"Sara is a blessing. I am blessed to have her as my wife," he said. "The disease itself has been a blessing, in that it has drawn us closer to each other, but more importantly, it has drawn us closer to Jesus Christ."