National Champs!
BHS

Real World Design team wins engineering contest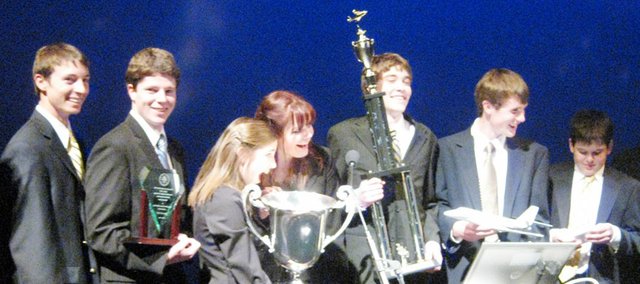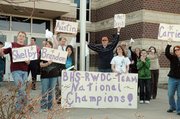 Brandon Baltzell's confidence spread to the rest of his Baldwin High School Real World Design Challenge team members Saturday in Washington D.C.
His assurance rubbed off on his teammates. So much so, the other six BHS students' confidence level also increased when the pressure was the highest.
"He knew we were going to win," BHS senior Mason Johnson said about Baltzell. "He kept saying we were going to win. Somehow he knew, I guess."
Baltzell, a BHS junior, was correct. His prediction came true Saturday evening during the RWDC finals. He stood with his teammates in front of 600 people at the National Air and Space Museum IMAX Theater and won the national championship.
In the finals Saturday evening, BHS beat out Hawaii, last year's championship team, and Minnesota.
"After they announced Minnesota, they took forever to announce second place," Baltzell said. "It was forever. It took so long. They said, 'the second place team is,' but then waited again before saying, 'Hawaii.' Once they said our name, we jumped up and starting hugging each other. We got a standing ovation after we got our trophy."
Johnson couldn't believe the BHS team of one senior, two juniors, one sophomore and three freshmen. He said most teams consisted of upperclassmen, especially seniors.
"It was one of the most exciting experiences of my life," Johnson said. "It was pretty much unreal to win the whole thing and beat Hawaii, because they won it last year. It was just awesome."
On Monday afternoon, the BHS students, BHS teacher Pam Davis and mentor Sandy Barnes returned home to a small gathering outside of the school. Parents and friends created signs to welcome the national champions home.
"The last 48 hours have been a whirlwind of excitement," Davis said. "It's been wonderful. It's blown my mind. The kids have been so excited. They told me it was 10 times more fun than they thought it was going to be."
While they visited with friends and family, the RWDC team spoke all about their exciting weekend in the nation's capital.
Road to success
Before a national title can be won in anything, especially engineering, hard work must be done. Once the BHS RWDC team won the state competition on Feb. 5, it wasn't done achieving its goal.
Junior Carson Barnes was the only returning team member from a year ago when they won the state title and participated at the national competition. If BHS would win a trophy this year, he was the key.
"I was here last year and I saw how tough the competition was going to be, so I wasn't quite as confident as Brandon," Barnes said. "I knew that we could do it, but it would take a lot more work after winning state."
Working 10-20-hour days in a high school computer lab isn't exactly how most high school students would prefer to spend their spring break. However, in this case, it was necessary.
During the week of March 15-19, the BHS team and mentors spent dozens of hours at school. They worked well past midnight several days and even put in a 20-hour session once.
"What set us apart was the hours we worked," Baltzell said. "There's no way anyone spent as much time as we did on the project. It's all worth it."
Davis was impressed at the students' dedication to the project.
"They had a couple of nights where they were in here past midnight," she said. "They even left here at 1 a.m. one morning, took their laptops home and slept in their clothes. They really put in the hours and started working on this in September. They tell us it's graduate schoolwork. It's complicated."
The Real World Design Challenge encourages students in grades 9-12 to solve real problems currently faced by the engineering industry, while encouraging them to get excited about science and engineering careers. The challenge was designed by professionals from industry, academia and government.
The 2010 national challenge was to design and optimize a business jet wing and tail for a flight condition of 400 knots true airspeed and altitude of 37,000 feet (standard atmosphere). The final configuration must balance lift and weight, thrust and drag, and zero pitching moments.
"Last year, the only thing they had to do was the wings," Davis said. "They already knew how to build wings, so 30 days was enough time to build wings."
With their project completed last week, the team and mentors headed to Washington, D.C., on an all-expense-paid trip. According to the parents, some of the students were nearly burned out before the national competition.
Bulldogs impress judges
BHS began its quest for the championship on Saturday morning. It all started at the National 4-H Youth Conference Center, where the 26 teams presented their designs and information to the judges.
Minnesota, Hawaii and Kansas' BHS were announced as the top three teams. They were invited to present at the IMAX Theater at the Air and Space Museum, which closed Saturday for the contest.
"We worked very hard on it, so we wanted to at least place in the top three," Johnson said. "Once we knew we were in the top three, we were pretty excited."
Before the Bulldogs headed to the museum for their final act, they needed a brief rest.
"By the time we presented at night, we were all worn out, so we took a quick, 15-minute power nap," Baltzell said. "After we woke up, we told ourselves we have to smile and be confident, because we have to win this."
Winning the title was exactly what they did Saturday evening. Their 15-minute video was shown on the large IMAX screen to the audience. After the video, the BHS students were questioned by the judges.
"They were fabulous," Davis said. "A couple of days before they went, they were reading their parts off of cards and I told them 'no, you can't use cards. You have to know it and you have to be into it.' They did. They memorized it. They really knew their stuff. They were just amazing."
Baltzell said the squad tried to seem calm and confident during the final presentation.
"Our goal going into the presentation was to make it seem like everyone on the team collaborated and worked equally hard on the project," Baltzell said. "Really, what set us apart was our confidence and our process. We also blew away the speaking part. I was waiting the whole time to be nervous, but it never happened. It was so much fun."
Johnson agreed, but said their sense of humor might have contributed to the victory.
"The judges asked us questions and we made them laugh," he said. "We made them crack up. It seemed like we were kids having fun and enjoying this. We showed that's it's not a nerdy thing to do and it's not boring. It was a lot of fun and we showed that during our presentation."
The BHS team won several prizes. They were given three trophies, one of which will be delivered to Gov. Mark Parkinson, a model airplane, Apple iTouches for each student, free flying lessons, a letter of recommendation from Sen. Pat Roberts and a $3,000 check for BHS.
"It seems like a dream," Davis said. "It's just so much better than we thought it would be. I'm just wowed right now."
Several of the BHS students participate in athletics, but when comparing their athletic success to the RWDC championship, engineering won easily.
"It's definitely a different type of feeling," Barnes said. "This is on a much bigger scale. Winning at sports is always great, but this is amazing. There were 400 teams we competed against from all across the nation. To come out on top is a pretty incredible feeling."
Barnes' feelings weren't alone.
"This is probably our best school experience," Baltzell said. "I hope people understand how big this was for our school."
When asked how this experience compared to the 1999 movie "October Sky," which is based on a true story about high school kids from West Virginia who win the national science fair, Baltzell was quick to respond.
"This is better than that," he said. "We want to defend our title. We started thinking about repeating as champions that night."