BHS

Real World Design Team wins national championship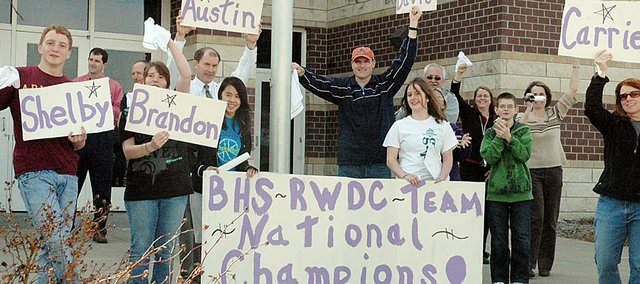 Kansas won a national title this weekend and it wasn't in basketball. Instead, it was in a high school engineering contest.
The Baldwin High School Real World Design Challenge Team was named the national champions of the design competition at the National Air and Space Museum in Washington, D.C. The seven students and two mentors returned home to a small crowd of supporters Monday afternoon.
"It was one of the most exciting experiences of my life," BHS senior Mason Johnson said. "It was pretty much unreal to win the whole thing and beat Hawaii, because they won it last year. It was just awesome."
On Saturday morning, the BHS team was named one of the three finalists out of 26 states. Now it was time for the big show and a possible national championship. Their final presentation was at the IMAX Theater at the National Air and Space Museum.
In the finals Saturday evening, BHS beat out Hawaii, last year's championship team, and Minnesota. After BHS was announced as the winner, excitement ensued, even from BHS teacher Pam Davis.
"The last 48 hours have been a whirlwind of excitement," Davis said. "It's been wonderful. It's blown my mind. The kids have been so excited. They told me it was 10 times more fun than they thought it was going to be."
The Baldwin High team also won an award for outstanding mentor collaboration. Sandy Barnes, who's the mother of BHS junior Carson Barnes, was the Bulldogs' mentor.
The team consists of BHS students Carson Barnes, Brandon Baltzell, Johnson, Shelby Gregory, Carrie Dietz, Mac Halpin and Austin Kraus.
Baldwin High's RWDC team participated in the national contest a year ago, but didn't place. BHS has also won the state competition both years since its inception in 2009.