Wellness Festival organizers hope to dodge storms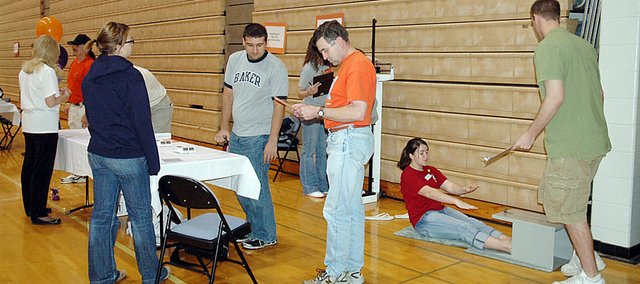 Ruth Sarna isn't too concerned about winter weather ruining Saturday's Community Wellness Festival this year.
Last weekend's snowfall came and went quickly enough that it won't impact this weekend's annual wellness festival. A year ago, inclement weather was projected in the Baldwin City area on the day of the festival, so organizers canceled the event. However, the weather wouldn't have impacted the festival, as it came later than expected.
This year's event will run from 9 a.m. to noon Saturday at the Collins Center, at the corner of Sixth and Fremont streets, on Baker University's campus.
"I'm glad the storm got through last weekend," said Sarna, Baker University director of student health services and wellness festival organizer. "We're all glad it happened this past weekend, so we should be in good shape. Plus, I heard it's supposed to be 60 degrees on Saturday.
"We're excited," she said. "We have about 60 exhibitors coming in this year. So far, we've had 75 people register for the lab work, which is a good response."
One primary draw to the festival is the blood work that is sent to Lawrence Memorial Hospital. That work costs $40 ($50 if you included the Prostate Specific Antigen Test for males).
"The lab tests are really a bargain," Sarna said. "Those are $300-400 value and cost $30 or $40. Those are a good option for everyone to consider."
The festival also offers eight free health screenings. Those are blood pressure, vision, hearing, posture check, body fat, bone density, lung volume and dental —new this year.
"We've had some success stories from all of the screenings," Sarna said. "If we can find something that tells us you need to check with your medical provider to seek further evaluation, that's a key to preventative health care. We only have one body, so we have to take good care of it."
Free t-shirts will be given to the first 150 attendees Saturday. Free bicycle helmets will also be given away to children who are accompanied by an adult. There is a limited supply of 50-60 helmets, so first come first serve.
The annual drawing for free bicycles is back this year. Two children's bicycles and one adult bicycle will be given away at the festival.
The Baldwin City Recreation Commission is sponsoring a 5-kilometer run/walk. It begins at 8 a.m., with registration at 7:45 a.m. The entry fee is a suggested donation of $10 for a single and $25 for a family. All participants will be given t-shirts.
"This is our eighth year and we're thankful for the community support," Sarna said. "It's growing and we're thankful for that. We're excited for Saturday."