BHS

softball squad anxious to get outdoors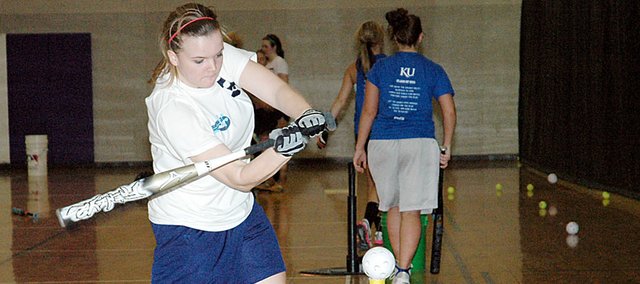 If losing six seniors, who all started a year ago, wasn't enough for Bob Martin, he now has to prepare his team for next week's season opener without a single outdoor practice.
The second-year Baldwin High School softball coach has been working with his squad for three weeks, but they've been forced to be inside because of the weather. The winter weather kept the Bulldogs' new fields from being completed and last weekend's snowfall kept the team in the BHS gymnasium this week.
"We haven't been outside at all," Martin said on Tuesday. "We're hoping we can go outside tomorrow. The biggest thing is our outfielders haven't been able to work at all."
The Bulldogs were hoping to practice outside Wednesday for the first time all season. They're needing time on the fields before their season officially begins at 4:30 p.m. Tuesday in Wellsville.
"It's been really hard to have good practice, because we've been inside," junior Morgan Burton said. "We have a game on Tuesday, so we need to get outside. All we can do is hit in the batting cage and take field grounders. Our outfield is getting nothing done right now. However, I think it's going well for what we can do."
Martin agreed with Burton, saying the Bulldogs' practices have been about as positive as can be expected early in the season.
"For what we've been able to do, I think it's gone pretty good," Martin said. "I think we've gotten done about as much as I believe we can being inside every day. We're way behind right now."
"With the space available, we've tried to do as much as we can," he said. "We can take a little infield practice and work on our hitting. We share with the boys, so we're limited on time. We just try to utilize the time and space as best we can."
Once the BHS softball team takes the field next week, the lineup will be vastly different from a year ago. The six seniors who graduated were the Bulldogs' starting pitcher, catcher, shortstop, second baseman and two outfielders.
Baldwin's starting pitcher will most likely be sophomore Hayley Schwartz, who saw limited action last spring. Behind the plate could be senior Brenna Bryant or junior Kyla Good. The other seven spots aren't filled yet and might change during the season.
"We have a lot of positions to fill," Martin said. "We are a young team and we're fairly inexperienced. We have some girls that have played, but we lost a lot of key positions. We have to fill those spots with girls that didn't play those spots last year. It's going to take a while for us to figure out who will go where. Hopefully by the end of the year, we've put it together."
Despite the youth, Martin said the squad could benefit from quickness and a productive offense.
"I think we have some speed at some positions," Martin said. "We're going to try and utilize that. We want to run as much as we can. Speed is always a great weapon. It's very valuable on defense and it can create runs on offense.
"I also feel like we have a lot of potential to be a good hitting team," he said. "We'll see how that plays out. I think we could be as strong offensively as last year, if not better."
The Bulldogs are scheduled to play at Wellsville on Tuesday and at home April 1 against De Soto. Both games will start at 4:30 p.m.
"I'm very nervous," Burton said. "We're not ready at all. We still need to be outside, working as a team, hitting live and getting better each day. But we're so ready to start playing, so ready."