Ball field complex won't be ready for home opener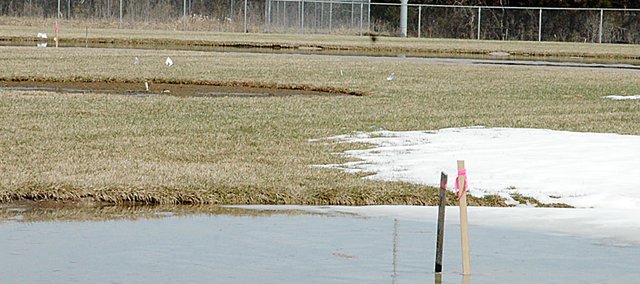 Although Baldwin High School's baseball and softball teams are scheduled to host their first home games of the 2010 season next week, it's unlikely the new ball field complex will be ready to use.
It's no surprise that a rainy summer and fall slowed progress of the complex, which was originally scheduled to open this spring. Then winter came and snow fell and remained on the ground. The already soggy construction zone became muddier, which only further delayed progress.
Now the four-field complex, which was approved by voters in the November 2008 Bond Issue, south of the Baldwin Elementary School Intermediate Center, won't be completed before the Bulldogs' home openers.
"The fall was terrible and the summer was awful, too," said Merv Penner, site manager for Manning Construction, who was hired by the school district for the bond issue projects. "It just rains all of the time. I've never seen a winter like this and I've lived in Kansas City my entire life. We can't catch a break.
"I'm not trying to make excuses for me or the contractors, because we all want this project to be finished," he said. "It's heartbreaking for everybody. It's really heartbreaking for the kids and the community."
No one is certain when the fields might be finished. The junior varsity fields appear to be completed, if they are able to dry. The varsity softball field needs a pitcher's mound and some finishing touches added to the warning track.
The varsity baseball field is the one that needs the most work. The construction crews still need to finish the warning track and infield areas. A pitcher's mound also needs to be added. Before any of this can happen, the fields must dry after last weekend's snowfall.
"I'd love to say that it could all be done in a couple of days, but I'd say five days of dry weather are needed to fine tune the fields," Penner said. "That's a safe bet, but they have to dry out first and that doesn't look promising with the weather forecast. We were close to possibly finishing them this week, but then it snowed over the weekend."
Both BHS teams are schedule to host their home openers next week. The baseball team will host Saint James on Tuesday and both squads will play De Soto at home April 1. If the BHS fields aren't completed, the Bulldogs might play the games at the opponent's fields, but no decision has been made yet.
While no date has been set for a completion date on the complex, the BHS players are ready to see it finished.
"It looks really nice," junior Kyle Pattrick said. "Once they get it done, it should be really nice. It will be a lot better than the sand lot we used to play on. We probably won't hit as many home runs this year."