Strong support shown for new Wildcat coach
Former
KU

player Ballard takes reins of Baker basketball program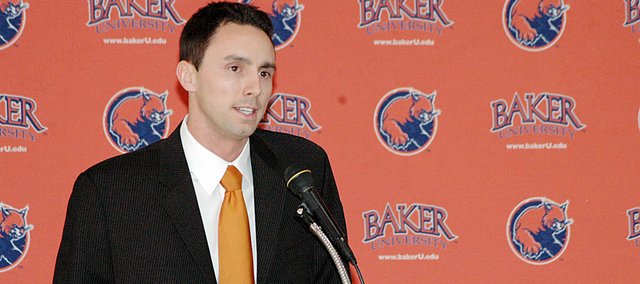 First came Phog Allen and now there's Brett Ballard.
Tuesday afternoon, Baker University president Pat Long introduced Ballard, a former Kansas University men's basketball player and 2003 KU graduate, as the school's 24th men's basketball coach.
He joins Allen and Karl Schlademan as the only three coaches in BU history to have sat on the KU bench. He's spent the last seven years as a member of KU coach Bill Self's staff, the final two as director of basketball operations.
"The tradition here is pretty strong and that's important to me," Ballard told a group of more than 50 friends, family members and supporters on Tuesday. "I've come from a place with unbelievable tradition, with unbelievable coaches and players. I always tried to embrace that tradition and that's something we're going to do here, too."
If the guest list from Ballard's introductory news conference is any indication of the job he will do at Baker, success seems likely. So, too, does an even deeper connection with the Jayhawks. Members of the KU athletic department who made the drive to Baldwin City on Tuesday included: Lew Perkins, Danny Manning, Barry Hinson, Kyle Keller, Jim Marchiony, Sean Lester, Max Falkenstien and former players Wayne Simien and Brennan Bechard.
In some way or another, Ballard, who wore his 2008 national championship ring on his right hand, thanked all of them for helping him reach this point in his life.
"For me, personally, taking this job wasn't necessarily the hard part," Ballard said. "The hardest part was leaving KU and the people who I've gotten to know and work with there. They treated me and my family so well and I'll always be thankful for what KU has done for me."
In the end, Ballard's decision to leave Kansas came down to the fact that he felt comfortable at Baker right away.
"I was blown away by the people I met," he said. "Everybody was first class and everybody used the same word and that was 'family'. By the end of the day, I knew that this was the right place for me."
Although he won't officially step away from his duties at KU until July, Ballard already has begun the process of putting Div. I basketball in his rearview mirror and focusing on the NAIA. He had his first team meeting on Sunday and, in it, he spoke first to his future players about the importance of academics and representing BU in a positive manner both on and off the court.
His energy and passion were contagious from minute one.
"I'm extremely excited," Dallas freshman Corey Anderson said. "He knows how to make us better players."
Added Phoenix junior Andre Strozier: "As far as motivating us as players, I think it's amazing. I just think it's going to be a great experience for all of us. He's been around great players and coaches and now he's here."
And then there was red-shirt sophomore Connor Bechard, a former standout at Gardner-Edgerton High, who grew up rooting for the Jayhawks.
"I remember watching him play," Bechard said. "He only took two or three shots a game but he never missed. I'm a huge KU fan. I was a big Roy (Williams) fan and I'm an even bigger Self fan. I want to be a coach someday, myself. To have that next connection, and to be able to play for a guy who has learned from both of them, that's as good as it can get."
Ballard emerged as the replacement to 25-year coaching veteran Rick Weaver from an initial list of 137 candidates. The reason was simple, according to Long.
"He has a pretty impressive list of references," she said, drawing a laugh from those in attendance. "Sometimes they say it's who you know, but in this case it's the person they knew. At the end of every reference call they would say, 'You know, he's just an all-around great guy.' And we are convinced today that we have the very best person for Baker."
Baker, which lists its enrollment at 4,000 students, competes in the 11-team Heart of America Athletic Conference, an NAIA Div. I league that includes Kansas schools Benedictine College (Atchison) and MidAmerica Nazarene University (Olathe), along with seven schools in Missouri and one in Iowa.