Brett Ballard officially named new basketball coach at Baker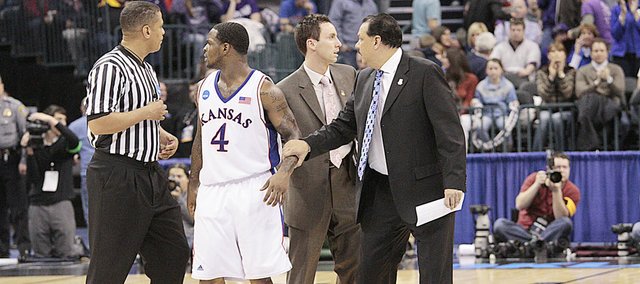 Staff Reports
Former Kansas basketball player Brett Ballard is officially the new men's basketball coach at Baker University, the school's interim athletic director, Patricia Long, announced Monday.
Ballard, 30, played for KU's Final Four team in 2002 and served this past season as the Jayhawks' director of basketball operations.
"I am confident Coach Brett Ballard is an excellent fit for Baker and the NAIA," Long said in a release.
Ballard replaces Rick Weaver, who spent 25 years as Baker's coach before retiring after last season.
"Brett is coming from one of the most highly regarded basketball programs in the nation with a history of winning titles and graduating athletes as the recent Inside Higher Ed academic performance report confirms," Long said. "We know Brett is committed to the success of our student-athletes in the classroom and on the court."
Ballard worked seven years total for the KU basketball program, serving as a student assistant, administrative assistant/video coordinator and as director of basketball operations.
"Coach Ballard has been preparing every day for this moment to become a head coach and guide a program," Baker associate athletic director Theresa Yetmar said. "He is known for his strong work ethic and being involved with every detail of the KU basketball program. Coach Ballard is well connected to high school basketball coaches in the area because of all the major off-season camps he organizes in the summer. We are extremely pleased that Coach Ballard will be a member of our staff."