Weaver reminisces last quarter century at Baker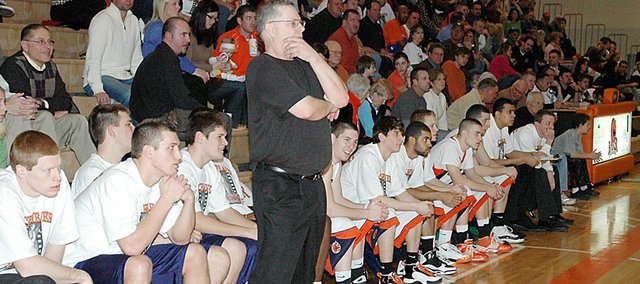 After 25 years of pacing the Baker men's basketball sideline, Rick Weaver called it quits two weeks ago.
Although he won't be coaching any longer, Weaver's iconic status in Baldwin City won't change. He recently sat down to talk about his coaching career, his involvement in the community and his favorite local golf course.
"It's gone awfully fast," Weaver said. "It's been a quick 25. It doesn't seem like it's been that long ago. I've had a good time."
Weaver came to Baldwin City from Wayne, Neb., in March 1985 to take over the Wildcats' program. The town had no fast-food chains, competing banks or even a stoplight.
The FireTree and Signal Ridge neighborhoods didn't exist 25 years ago. The current Baldwin High School building wasn't constructed for another eight years. One of the mainstays in the town was the golf course.
The Baldwin City Municipal Golf Course was on the west edge of town 25 years ago, as it is today.
"About the only thing that hasn't changed is the Baldwin Golf Course. The clubhouse is still the same. So are the sand greens and the layout. The Baldwin Golf Course is sort of like the Masters. It's still the same old place."
Weaver ventured out to the golf course during his first week in Baldwin City. It was men's night, so he headed out there to meet some locals and play a round of golf.
"There was an interesting collection of golfers," he joked. "The golf carts looked like something out of 'Mad Max and the Thunderdome.' That was an eye opener, because where I came from had an 18-hole course with grass greens. It was fun and I met a lot of people really quickly."
Little did he know, that golf course would become a favorite place of his. Months after he moved to Baldwin City, Weaver began his first year as the Wildcats' coach. He took over a team that returned less than a handful of players from the previous season.
The new arena, the Collins Center, wasn't quite ready to open when the season began. The Wildcats played in their old gymnasium in Mabee Hall for a few games.
"It was kind of a 'Hoosiers' type gym," Weaver said. "It was an interesting experience when I took over here. It was unique and Baldwin has definitely changed since I came here."
Winning Wildcats
Weaver quickly built the program to be one of the best in the Heart of America Athletic Conference. In 1989, his Wildcats' squad earned a share of the school's first HAAC title. Sophomore John Smith, who is now the school's second-leading scorer of all time, led the Wildcats during the 1989 season.
Seven of Baker's top 10 scorers of all time were coached by Weaver. Wellsville High graduate Brent Dorsey is No. 1 on the list and Baldwin High graduate Brian Sheldon is fourth.
"I always tried to make an effort to get local kids," Weaver said. "We'd take them from Mars or Venus, if we could. I think you have to make an effort to show interest in local kids, especially if they are quality players and good students."
Smith and Dorsey were also named HAAC player of the year during their time at Baker. Smith won it twice (1989 and 1991) and Dorsey earned it once (1998). Weaver also coached 12 players who earned 20 All-HAAC honors.
He also had 13 players who were named NAIA All-America Scholar Athletes. Weaver said some of the years during his tenure blur together, but he still recalls his 1996 team that won 25 games and earned a trip to the NAIA national tournament. His 2000 squad also brought back memories, although he claims, 'they weren't the most athletic group, but they may have been the smartest team.' Three of those players were named NAIA All-America Scholar Athletes.
"I get the biggest kick out of following those guys once they graduate and start raising families," Weaver said. "Some of my early players are grandparents. You know you've been at it a while if kids you coached have grandkids. It's kind of scary."
Several of his former players are now basketball coaches: Dave Cash (Paola High), Carl Danzig (University of Scranton), Pat Denney (Topeka High), Kyle Detering (Eudora High) and Nick Wood (Lawrence High girls).
On Feb. 25 many of his former players returned to Collins Center to watch Weaver coach his home finale. The Wildcats lost 78-70 to heavily-favored MidAmerica Nazarene, but their coach enjoyed his night of recognition.
"We had a lot of players back and I was surprised how many came back on a Thursday night. There were high school games in the area. The gym and the Lodge were really packed. It was nice to see a lot of the former players. If we could have made a couple more baskets, we could have won the game."
A celebration at the Lodge followed the game. Many former players and community members honored Weaver at the reception. In typical fashion, Weaver laughed at himself during a slideshow of old photographs.
"Man, you talk about depressing," he said. "I looked like a semi-normal person and then all of a sudden, I look like a chunk. That was kind of an interesting deal. Remember, you age over 25 years. You'll look different."
Community man
Weaver's time as basketball coach might be history, but he will remain part of the university and Baldwin City. He plans to stay at Baker for at least another year teaching classes and fundraising.
It's the community involvement that has made Weaver an icon in Baldwin. It's also been one of his favorite memories during the past 25 years.
"Being involved with a lot of Baldwin and Baker stuff at the same time has been a highlight for me," he said. "I've maybe gotten in the middle of too many Baldwin things, but I've enjoyed that. I've had three kids go through the school system and I've been involved with youth sports and various other things. In a place like Baldwin, if you're going to be here this long, you better get involved in the community."
His most famous creation began in 2000. He was one of several parents who wanted to raise $20,000 for junior high football. A handful of ideas were thrown out, but Weaver's idea of a huge tailgate party before the first BHS home game was the winner. Thus, the Bulldog Bash was born.
Tickets were sold at $50 apiece. One ticket paid for a family's meal and game tickets. Bratwursts and baked beans were the main course.
"Those were a bunch of yahoos we got together to try and raise $20,000 with one big activity," Weaver said. "I was always big on pushing one activity, instead of selling cheese balls and pecan logs. So we thought we'd try this Bash thing. Those early years were kind of trial and error. We changed things each year to make it better or easier. We had a lot of guys with good intentions, but we weren't the smartest group."
The Bash was a success. It's continued to be a success as it celebrated its 10th year this fall. Since the inaugural year, other BHS groups have sold tickets to raise funds for themselves.
Weaver's finale year organizing the Bash was 2007. It was titled 'Bash VIII: The Ocho.' His son, Luke, was a senior that season, so Weaver handed the reins over to other BHS parents. He recalls the craziness that was his final Bash.
"I think the last year I was involved, we fed well over 1,000 people in an hour," Weaver said. "It was nuts. We had four lines going and it was kind of chaotic. We also got a little carried away and we brought in the skydivers and some other crazy stuff.
"Now it's kind of become a tradition," he said. "It's now become something that kicks off the school year and people look forward to it. Baker and the school district have always been really supportive of the Bash."
Foreseeable future
Weaver's future is uncertain for now. However, he hopes to have more time for golf. First thing's first — replacing both knees in the coming months.
"Hopefully, in a few months, I'll be able to move without looking like peg-leg Bob," Weaver said. "I want to get that done this spring and summer."
Of course, maybe more time with his wife and three children. Well, if you know Weaver well enough, maybe not.
"We get along really well when we aren't around each other," he said. "I told my wife she is going to have to work until she is 95 to support us, but I'm not sure how well that is going over. She hasn't quite bought into that idea yet."
His first duty will be helping his successor, who is likely to be named soon.
"I want to make the transition for the new coach as smooth as possible," Weaver said. "Anything I can do to help, I want to do."