Record attendance for State of District luncheon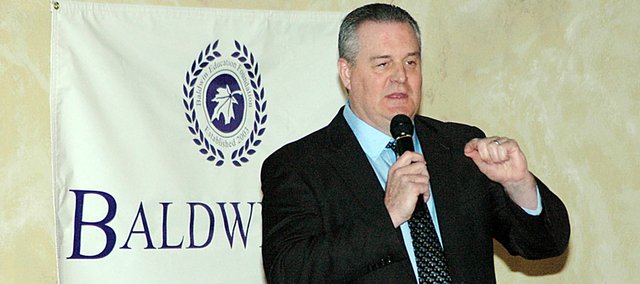 Changing last week's annual State of the District event from a breakfast to a luncheon resulted in a record-breaking attendance.
The fourth-annual Baldwin Education Foundation fundraiser attracted 155 guests at Stony Point Hall. The BEF raised more than $4,000 for its annual Innovative Grants, which are awarded during the first month of each school year.
"We had a record crowd of more than 150 people," BEF Executive Director Kathy Gerstner said. "I think it was just terrific. I think everyone had a good time and it was a good event. We made more than $4,000 and gave away about the same amount to the schools. I think they need that money right now, with the tough economic times."
The BEF also gave away more than $4,000 to the six schools in the Baldwin School District. Each principal was given a check last Thursday at the event. Each check was made in the amount of $3 per student for each building. That totaled approximately $4,200.
A year ago, the attendance was just shy of 150, but it was a breakfast at Stony Point Hall. The event was changed to a luncheon this year. Gerstner said this year's attendance might have been greater, but Kansas University's men's basketball was playing in the Big 12 Conference Tournament at 11:30 a.m. on the same day.
"I felt like we had a really good crowd of teachers, who were able to come because of the switch from breakfast to lunch," Gerstner said. "I think we had an even number of our business community attend. I didn't hear any complaints from anyone about switching it to a lunch. I think everyone was happy with the switch."
Supt. Paul Dorathy gave the keynote address at the luncheon. He spoke about the district's excellence on the annual state assessment exams. He also talked about the economic troubles of the state, but kept his speech short.
There were two other presentations. Doug Loveland of the DLR Group showed a quick slideshow of the performing arts center, which is part of the November 2008 Bond Issue. The other was a video highlighting the 2009 innovative grants.
"We work hard to keep it right at an hour," Gerstner said. "I think that is the right time so everyone can get there and back to work. Mr. Dorathy did a fine job with this speech. It was nice to learn about the performing arts center. That's going to be a beautiful facility. I was also very pleased with how that video turned out."