KSHSAA

searching for all state high school track and field champs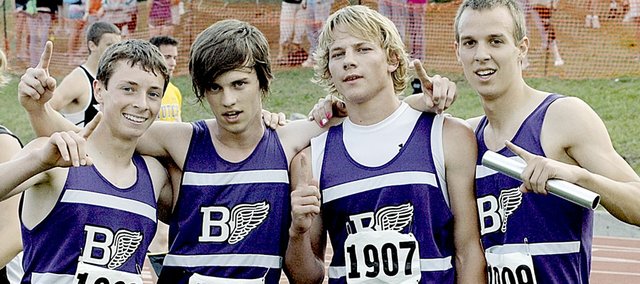 Attention: Calling all former Kansas high school track and field champions — you are wanted in Wichita the weekend of May 28-29.
The Kansas State High School Activities Association will mark a special occasion at Wichita State University that weekend. It will be the 100th Anniversary of the State Track and Field meet.
The KSHSAA wants anyone who won a state gold medal in an individual event or relay at the state track meet. All former state champions will be honored during the weekend, with the big celebration during the afternoon on May 29.
"They are trying to do a big celebration for their 100 years of track and field," BHS boys' track coach Mike Spielman said. "They are trying to do some special things, like bring back some of the Olympians from Kansas. They are going to have old artifacts and pictures in Koch auditorium next to the stadium. Then they are also going to bring back every state champion.
"At first, they were just going to do individual state champions," he said. "Then they decided to add relays, because they are also state champions. So it's anyone who won an event at the state meet in Kansas."
Spielman and Ted Zuzzio, BHS girls' track coach, have spent the past months researching Baldwin's history at the state meet. They have compiled a list of 50 state champions from BHS.
"Baldwin has a long history of competing well at the state meet and we have a good number of athletes who won state," Spielman said. "It's been kind of fun to look back at the history of Baldwin."
Although their list has 50 athletes, they know there could be more that they missed or haven't found. They want anyone not on their list to contact them at the school district. They can be reached by e-mail at mspielman@usd348.com and tzuzzio@usd348.com.
"I've tried to get a hold of some people and we're trying to track down the rest of them," Spielman said. "Anyone who has been a state champion can get a hold of me or coach Zuzzio. They are also welcome to come sit with the Baldwin fans at the state meet. That would be great for the current athletes to see."
Spielman will also be one of the honored athletes. He won the 800- and 1,500-meter runs for Sabetha in 1985.
"It will be kind of fun to see some people from my decade, too," Spielman said.
Any former state track and field champion may contact the KSHSAA. Also, if
the address of any other champion is known, please send that information to Rick Bowden, KSHSAA Assistant Executive Director, 601 SW Commerce Place, PO Box 495, Topeka, KS 66601-0495 or via e-mail at rbowden@kshsaa.org.