BHS

duo named academic all-stars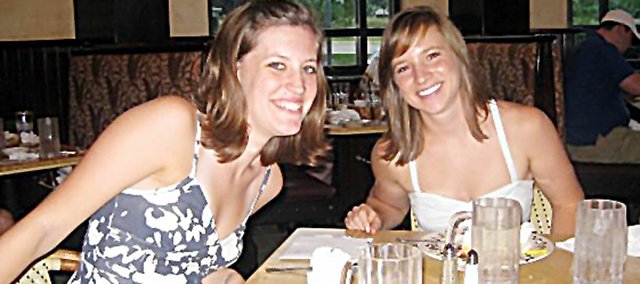 Much like the standout students chosen before them, these high school seniors' successes are not confined to the classroom.
This year's academic all-stars are also busy with athletics and school and community activities.
"They all are academically outstanding in what they do, but they are well-rounded in their activities and their lives," said Austin Turney, a former Lawrence school board member who was one of four judges to select the all-stars.
The Journal-World's 2010 Academic All-Stars are Lauren Barnes and Molly Bostwick, Baldwin High School; Olivia N. Brien and Brian E. Henry, Oskaloosa High School; Caitleen Desetti, Free State High School; Matthew Drahozal, Lawrence High School; Abby Guenther, Ottawa High School; Emily Jefferies, Tonganoxie High School; Hogan Randall, Veritas Christian School; and, Katherine Volle, Perry-Lecompton High School.
The students and their parents were honored during a luncheon last week. The selection criteria included the students' academic achievements and accomplishments in extracurricular activities.
They also wrote essays on what aspect of their education has been most vital to them and worth saving from school district budget cuts.
The guest speaker for the luncheon, Rick Doll, Lawrence public schools superintendent, told the students they would face challenges as they move on to college and into the world. He said the world's great explorers, like Columbus and Magellan, rose to challenge and were not paralyzed by fear.
"They were no different than you," Doll said. "What made them special I think was their ability, in fact their desire, to invite and embrace a challenge, knowing that it could lead to great opportunity."
The judges were Turney; Rand Ziegler, a Baker University vice president and dean of the College of Arts and Sciences; Robert Harrington, a Kansas University professor of psychology and research in education; and 6News Producer Lindsey Slater.
The students received a gift during the luncheon. The Journal-World has honored one class of outstanding students annually since 1997.
Here are the profiles of Barnes and Bostwick.
Lauren Barnes
School: Baldwin High School Grade-point average: 4.0 Class rank: 1 Parents: Mark and Sandy Barnes College: Undecided Career Plans: Undecided Major: Chemical engineering
Lauren Barnes knows more about aircraft wings than she ever thought she would. Barnes, Baldwin High School senior, designed one with four other people for the U.S. Department of Energy's Real World Design Challenge. They won the state competition.
"I still have a lot to learn," she said. "When I get on the plane, I understand what's going on."
Barnes has always been around engineers. Her father is an electrical engineer and her mother is a computer engineer. She wants to go into chemical engineering, but hasn't decided yet where she wants to study.
Barnes says she is inspired by her father, who doesn't just spend his time as an engineer. He also farms on the land they live on, which Barnes says is like him having two full-time jobs.
"My dad is really hardworking," she said. "He's a really big inspiration to me. Every time I try to do something I don't think I can do, he's always there to tell me I can."
In her free time, Barnes cooks and hangs out with friends. She is a member of her culinary team at school. In a recent competition, she made chocolate mousse and a lace-like cookie from scratch. Her friends and family know to come to her when they need to satisfy a craving for sweets.
"I do all the birthday cakes for my family," she said.
Barnes knows when she leaves for school, she'll miss her close group of friends.
"I'm going to miss my friends, but I'm excited to take the next step and grow up," she said.
Honors, activities: National Merit Commended Scholar; Kansas Honor Scholar (2009); varsity letter, Scholars' Bowl (2007-2008); member of four person state champion and national qualifying team for U.S. Department of Energy's Real World Design Challenge (2009); Member of first-place two-person team at KU Engineering Expo's Rube Goldberg competition (2008); first place at regional and state qualifier in Kansas History Day (2007); Student Council (president 12; vice president 11); class president (10); class vice president (9); National Honor Society (2007-2010); Culinary Team (2007-2010); Chorus (2006-2009); Letterman's Club (2006-2010); Fellowship of Christian Athletes (2006-2010).
Molly Bostwick
School: Baldwin High School Grade-point average: 3.91 Class rank: 12 Parents: Dave and Trina Bostwick College: Westminster College Career Plans: Undecided Major: French and international business or studies
For Molly Bostwick, moving to Baldwin City during high school was a big change. Her graduating class at Baldwin High School, where she's a senior, is more than four times larger than her graduating class would have been at Caldwell High School. Bostwick admits that initially she was shy, but says she's grown into her new home at Baldwin High after leaving Caldwell.
"The nearest McDonald's was 30 minutes away," she said. "I didn't want to move, but I've met so many more people."
Bostwick plans to attend Westminster College in Fulton, Mo., next year to double major in international business or studies and French. She said her interest in all things global came after visiting Australia as part of an ambassador program her freshman year. Since then, she's also traveled to France and wants to study abroad in England and France or Switzerland.
"I was really lucky to be able to do all those things," she said.
In her free time, Bostwick plays her bass guitar and has a love of music she picked up from her father. Her dad has played in bands her whole life, and she's traveled to music towns like Memphis, Tenn., with her musical ability. She started on the guitar, but ultimately settled on the bass because it has fewer strings and fewer people play it. It helps her relax, something that might help her when her college tests are looming.
"I can just pick up the bass and kind of nothing else matters," she said.
Honors, activities: Designed school newspaper Web site (11-12); Fox 4 News Reaching 4 Excellence Award (12); Student Council (9, 12; officer, 12); National Honor Society (11, 12; treasurer, 12); journalism (11, 12; co-editor 12); forensics state qualifier (9-12); debate state qualifier and outstanding novice (10); cross country (9, 12); People to People Student Ambassador (9); French International Student Exchange (11); Winner's Circle (10-12); 1 rating in band at state (9); school play (9).