School board eyes budget cut possibilities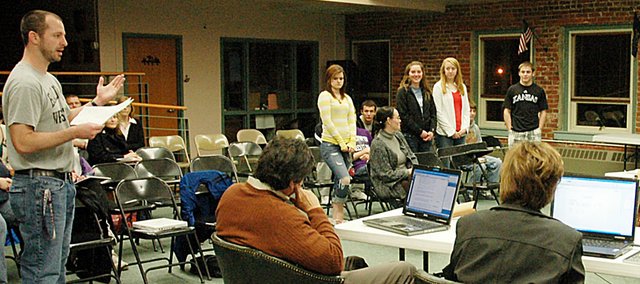 With hundreds of thousands of dollars already cut from last year's budget, the Baldwin School Board is beginning to prepare for possible cuts next year.
On Monday night, Supt. Paul Dorathy said the district has lost $933,000 from its budget, but that doesn't include the reallocation of funds to pay for health insurance for all full-time employees.
"I do think we're ahead of the game," Dorathy said. "I think we will be talking about cuts for next year, while most districts are talking about cuts that we've already made this year."
After summarizing the cuts this year, Dorathy moved on to the future. He said the state legislature is considering a bill that would cut their per-pupil funding by $286 for next school year. That would cause the Baldwin district to lose $501,000 in state funding.
Although no decision has been made by the legislature, Dorathy wants the district to be prepared if cuts have to be made for next year.
"I am concerned that if we don't plan well and we get cut in the middle of the year next year, we don't have any place to go," Dorathy said. "It's not just the $500,000, it could be more than that. They are telling us we could be getting cut again next year in the middle of the year.
"It's not positive news and it's not anything anybody wants to hear, but it is what it is," he said. "I felt like this was an appropriate time to bring up this topic."
The school board didn't discuss any potential cuts for next year. Board Member Ande Parks did bring up the topic of consolidation. He received an e-mail saying districts might be forced to consolidate into sizes of at least 10,000 students.
"If this happens, it means Mr. Dorathy and the superintendents in Wellsville and Ottawa wouldn't have jobs," Board President Alison Bauer said. "That doesn't help the state's economy, because you have more people who are unemployed. We need to let the legislature know that's not what we want."
Later in the meeting, the school board briefly discussed the fact-finding committee's report. Over the past two months, the committee met seven times and gathered information and numbers about seven significant ideas that the school board might consider if significant cuts are necessary next year.
Those seven items are a four-day school week, elementary attendance centers, closing one elementary school, closing two elementary schools, transportation, activities and administration organization. The final report from the committee totaled 205 pages.
"You're not going to find any recommendations in this report," Dorathy said. "I think you use this as a reference. That's what it is. It's a reference."
Dorathy reported that the fact-finding committee wants to hold a work session with the school board. That is now scheduled for 6:30 p.m. March 22 at the District Office.
He said the district will release the report to the public after the work session.
"I agree," Board Member Scott Lauridsen said. "I want to get it out to the public as soon as possible, but it might be helpful if we make it more public friendly before putting it on the Web site."