Murphy's Lumberyard opener was a big splash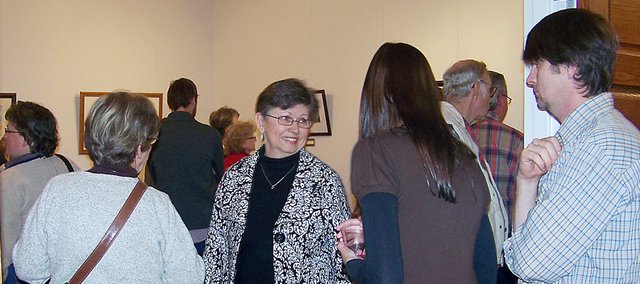 Organizers wanted the first-ever exhibit at the newly renovated Lumberyard Arts Center to make a big splash. It worked, as Rosemary Murphy's inaugural event Sunday was more like a tidal wave.
"It went extremely well. Beyond my expectations," said Murphy, a well-known Baldwin City artist and art teacher. "The crowd. It was a big crowd, over 200, and they stayed.
"The atmosphere," she said. "So many commented on the gallery, the food, the music and that so much has happened at the Lumberyard."
A home for the arts in downtown Baldwin City began as a dream back in 2003. The lumberyard had gone out of business and sat vacant. A dedicated group of people began the effort to refurbish the historic building and little by little it started falling together.
In the last year the physical efforts intensified and the front half of the building was completed with a gallery area, classrooms and room for hosting community events such as the exhibit and last month's annual Chocolate Auction.
"The opening of this show, as well as the building itself, would never have happened without the intense physical labor and total dedication of Diane and Jim Niehoff," said Sandy Cardens, gallery coordinator and long-time Lumberyard supporter. "I would like everyone in the community to know that they have dedicated nearly all of their time, in at least the past couple of years, to getting this project completed. I am very grateful."
But that first exhibit needed to be a big one — and it was.
"The opening was extremely well attended," said Cardens. "We were all pleased to see the community support. In our guest book, we had more than 182 signed in and I know many who did not sign, so I'm guessing it was over 200.
"A number of them came from Kansas City, Overland Park, Lawrence and others areas, too," said Cardens. "We had visitors coming before we even opened. Eight of Rosemary's paintings sold throughout the evening and that was a bonus. The volunteers who brought the food need to be thanked — it was delicious and beautiful. The music by the very talented members of 'Forecast' was perfect for this event."
Cardens said everyone who attended raved about the exhibit. That meant a lot to those who have been behind the project for so long, including Murphy.
"After years of planning and hours of work by many volunteers, it is so rewarding to see so many from the community and surrounding area enjoying the wonderful works of a very talented area artist," said Niehoff. "It is especially gratifying that our premiere exhibit was someone who has been so supportive over these years of planning and fundraising in order to make a home for the arts a reality. Rosemary gave freely of her time and talent, teaching classes in facilities that left a lot to be desired, attending fundraisers and planning sessions and offering encouragement along the way.
"The numbers in attendance, as well as sales for the first day, demonstrated the true appreciation of the artist as well as the new venue for display of area talent," she said. "We are looking forward to showcasing many more of our artists and plan to have varied and ongoing exhibits in the gallery on a regular basis."
Murphy's exhibit will continue through March 20. The gallery hours are Tuesdays through Fridays from 3 p.m. to 6 p.m. and Saturdays from 2 p.m. to 5 p.m. for the duration of the show.