BHS

girls fall one win short of state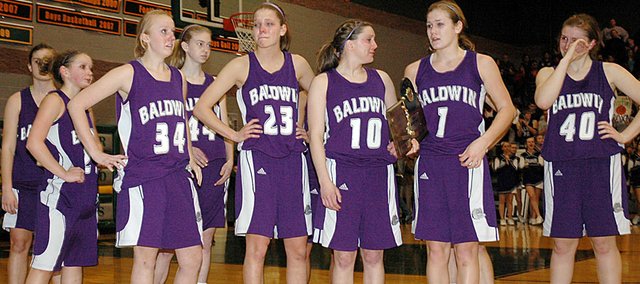 BASEHOR — Three-pointers weren't falling here Saturday night for the Baldwin High School girls' basketball team.
Despite averaging more than three per game during the season, the Bulldogs couldn't seem to find their touch from outside in their Class 4A sub-state final. They made two of 21 three-point attempts Saturday in their 46-37 loss to the hometown Basehor Bobcats.
"I thought we fought really hard all night," coach Bob Martin said. "We had a lot of shots that didn't drop for us. Those are shots we've made all year. We have been shooting really well lately and they played a zone against us, so we shot a lot of three's tonight. We just weren't able to make many tonight. But I'm still proud of how hard the girls fought all game."
Senior Julie Hill shared the same sentiment as her coach.
"We played well, but our shots just didn't fall Saturday," Hill said. "I think we played hard. We just didn't make enough shots. If we had hit a couple more shots, we definitely would have won. Sometimes you make them and sometimes you don't."
Although the Bulldogs shot poorly from three-point range, they still had a shot to win the contest. They scored only four points during the first 4:45 of the fourth quarter, but trailed just 36-31.
Freshman Katie Kehl ended the drought with a steal and a layup. Junior Allison Howard scored a minute later after grabbing an offensive rebound. The Bulldogs found themselves down one point with 2:12 remaining.
Baldwin struggled to score on its next several possessions. BHS was forced to foul the Bobcats, who sank eight foul shots during the final 1:16. During that stretch, the Bulldogs' outside shots continued to find the rim and backboard but wouldn't fall through the hoop.
"We were pretty confident in our shooting before the game," Hill said. "I don't know what it was. Maybe it was nerves. I can't pinpoint the exact reason our shots didn't fall that night."
The Bulldogs may have struggled from the outside, but they shot decently elsewhere. They made 11 of 25 two-point field goals and nine of 14 free throws, which is right at their season average of 64 percent.
Baldwin's lone three-point shooter on the night was freshman Kailyn Smith, who had made two during the previous 22 games. Smith's pair of three-pointers weren't merely the only ones for Baldwin; they were also timely baskets.
Her first ended a 10-0 run by the Bobcats and sent BHS into halftime with some momentum. Her three before the buzzer cut the Bobcats' lead to 21-20 at the break.
Smith's other three-pointer came less than two minutes later. The Bobcats opened up a four-point lead early in the third quarter until Smith sank a three-pointer. She was fouled on the shot and made the free throw to convert the rare four-point play, which tied the contest.
"We haven't asked her to do a lot of scoring for us," Martin said. "She does a lot of other things for us, but I know she's capable of scoring for us. I was hoping she would start scoring more by the end of the year, but we never put much pressure on her to do that. I think now she will, because of the night she had Saturday."
Smith and Howard each scored 11 points to lead the Bulldogs. Martin was impressed by his freshman point guard.
"Kailyn had a great game," Martin said. "I think she really competed and came to play. I think we found that out about her this year. She had a super year as a freshman and should have a great career for us. I had a feeling before the game that she was going to have a big game and she did."
Megan Bergstrom led Basehor with 22 points. The junior post player controlled the paint for most of the game. Despite her points, Martin was happy with the Bulldogs' defensive effort.
"Defensively, we played well enough to win," he said. "We had 13 offensive board and I thought we really battled well in there. We did a lot of things well. Their post player had a big night and she's an outstanding player. I think we did a good job of shutting down everyone else and I think that's what kept us in the game on a bad shooting night."
Martin has now coached the Bulldogs to a pair of sub-state finals during his five years as the BHS coach. His 2006 squad faced Iola, who went on to win the 4A state title, in the sub-state finals in Baldwin City.
This year's squad believed they had a shot at qualifying for Salina, but just fell one victory short of that goal.
"I think we thought we had a chance to make it to state," Hill said. "As the end of the season drew closer, we thought this could really happen. We just didn't make it as far as we wanted to."