Education foundation hosting luncheon Thursday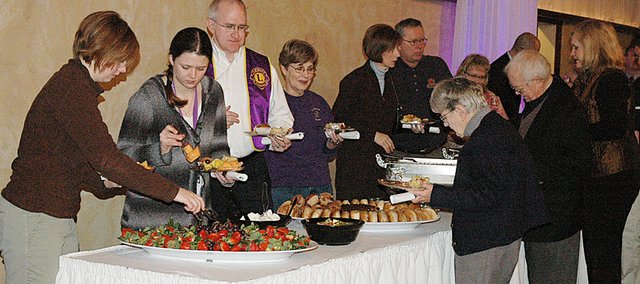 Baldwin Education Foundation's annual State of the District event will be starting a few hours later this year.
For the first three years, the event was a breakfast. This year, it will be the fourth annual State of the District Luncheon.
"We took a step back and evaluated our crowd," BEF Executive Director Kathy Gerstner said. "We decided that maybe we would have better attendance if we all didn't have to wake up quite so early. I think we just wanted to try it as a lunch and maybe get some people there that couldn't be there for the breakfast."
The annual BEF fundraiser will begin at noon Thursday at Stony Point Hall, which is located north of Baldwin City at 1514 N. 600 Rd.
"It is our largest fundraiser and it bring in a little more than $4,000 every year," Gerstner said. "We expect to be right at last year's amount, if not higher, this year. We are looking forward to the event and celebrating education."
"I really think it's important in these times to sort of stop and remember that our school district does a wonderful job of education children," she said. "We don't want to lose sight of the fact that our teachers and staff do an excellent job of educating our children and our students are accomplishing tremendous things, with the economic pressures that we have. This event reminds us why we do this."
The event will feature Baldwin High School musicians, highlight the Innovative Project Grants awarded annually to Baldwin School District faculty and Supt. Paul Dorathy will provide the keynote address.
"It's always a good thing for education," Dorathy said. "The state of the district address might not be a lot of fun, because of the economic status of the state. But I think people will enjoy the luncheon. We're hoping that a number of people can get away at lunchtime to come join us for the event."
There will also be a presentation by the DLR Group, who is the architectural firm hired by the school district for the 2008 bond issue projects. The DLR representatives will be showing attendees the progress and plans for the new performing arts center.
"I think a lot of people haven't really seen those plans and don't really know what a terrific facility that's going to be," Gerstner said. "That will be a nice time to introduce that facility to the public."
Proceeds from the luncheon will support this fall's Innovative Project grants. Tickets are $25 and available at the school district office and the Baldwin Junior High School office. Tickets can also be purchased at the door, but pre-purchased tickets are encouraged.