Baldwin High girls fall in sub-state finals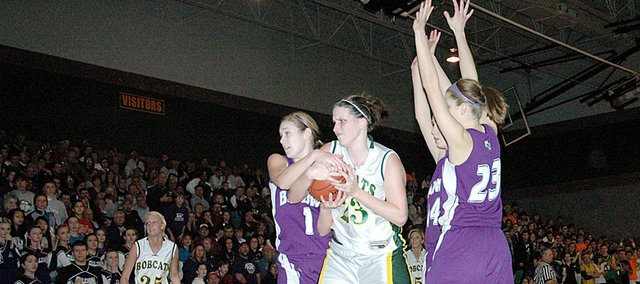 BASEHOR — Basehor-Linwood High's girls' basketball team used a game-ending 10-2 run and hit eight of 10 free throws in the final 1:16 as the Bobcats pulled away late for a 46-37 victory against Baldwin in the Class 4A sub-state finals here Saturday.
"I thought we fought really hard all night," BHS coach Bob Martin said. "We had a lot of shots that didn't drop for us. Those are shots we've made all year. We have been shooting really well lately and they played a zone against us, so we shot a lot of three's tonight. We just weren't able to make many tonight. But I'm still proud of how hard the girls fought all game."
Both teams struggled from the field throughout the first half. A three-pointer at the buzzer by Baldwin freshman Kailyn Smith pulled the Bulldogs within 21-20 at halftime.
Basehor opened up a four-point lead early in the third quarter, but a four-point play by Smith tied the game at 26-26. The game remained close throughout the second half, and the Bobcats led 36-35 with 2:11 left before pulling away for the victory.
Megan Bergstrom led Basehor with 22 points. Kailyn Smith and Allison Howard each scored 11 points to lead Baldwin.
The Bulldogs finished the season 15-8.
Score by quarter
Baldwin 8 12 7 10 - 37
Basehor 7 14 11 14 - 46
Individual scoring
Baldwin: Allison Howard 11, Kailyn Smith 11, Ramie Burkhart 5, Connor Twombly 2, Rachael Enick 2, Myranda Behrens 2, Katie Brecheisen 2, Katie Kehl 2.
Basehor: Megan Bergstrom 22, Cassy Bever 10, Courtney Poe 6, Shelby Equels 6, Jamie Johnson 2.
Records: Baldwin 15-8; Basehor 16-7.