BHS

girls headed to sub-state title game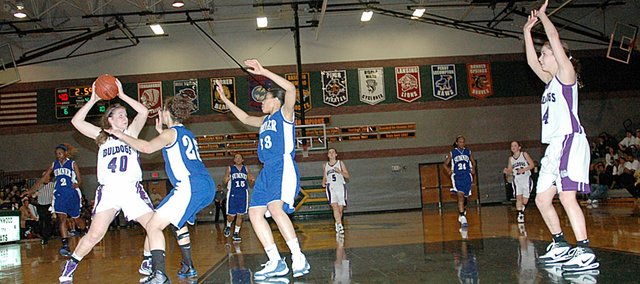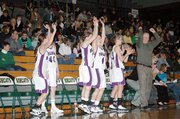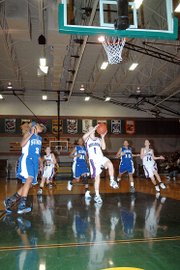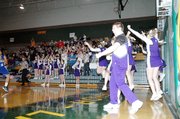 BASEHOR — Despite a sloppy start to its Class 4A sub-state semifinal game, the Baldwin High School girls' basketball team defeated Sumner Academy 51-46 here Thursday.
"Surviving and advancing is the key right now," coach Bob Martin said. "Sometimes you have to play ugly to win and we did tonight."
The Bulldogs managed only six points during the first 5:30 of the game, while committing six turnovers. They trailed 11-6 until baskets by juniors Ramie Burkhart and Myranda Behrens helped the Bulldogs trail by two at the end of the first quarter, 13-11.
"They had a really good press and we made too many mistakes," junior Allison Howard said. "We also didn't make our shots early in the game."
Sumner came back with an 8-2 run to open the second quarter. The Sabres scored three layups during that stretch run. However, the Bulldogs again closed the gap. Burkhart hit a three-pointer before freshman Katie Kehl made a layup to make the score 21-20. With 59 seconds left in the half, senior Connor Twombly drained a three-pointer to tie the score 23-23 at halftime.
"We really battled to stay in the game the first half," Martin said. "We were very lucky for the game to be tied at halftime. They had chances to put us away, but we hung in there and battled with them."
The start of the third quarter was similar to the two previous quarters. Sumner jumped out to a lead as Baldwin struggled offensively. Sumner led 29-25 before Baldwin went on a 6-0 run to end the quarter. Howard made three free throws to help the Bulldogs. Senior Katie Brecheisen scored the go-ahead layup with 37 seconds remaining in the quarter.
Following Brecheisen's layup, the Bulldogs never trailed in the fourth quarter. Sumner tied the game twice but never regained the lead. Sumner's coach was called for a technical foul at the beginning of the quarter and Howard sank both foul shots.
Both teams shot many free throws during the final quarter, but Baldwin made enough down the stretch to maintain its lead. BHS made 18 of 27 free throws in the second half to make 21 of 35 for the game.
"We made just enough to win," Martin said. "We struggled at the line all night. I know there were a lot of nerves out there tonight, so hopefully we got that out of our system."
Burkhart made a jump shot and layup during the final minute before fouling out to seal the Bulldogs' victory. She led the Bulldogs with 16 points. Howard scored 11 to help the Bulldogs.
"We're going to get after it in practice tomorrow and get ready for whoever we play Saturday," Howard said. "We'll be ready to play Saturday."
Next up for the Bulldogs is the sub-state championship. They will play the host team, Basehor-Linwood, at 6 p.m. Saturday for a state-tournament berth in Salina. Basehor-Linwood beat Saint James 53-37 Thursday night.
"We've got one day of practice, then we'll come and do our best on Saturday," Martin said.
Score by quarters
Baldwin 11 12 8 20 — 51
Sumner 13 10 6 17 — 46
Individual scoring
Baldwin — Connor Twombly 8, Allison Howard 11, Ramie Burkhart 16, Myranda Behrens 4, Katie Brecheisen 2, Kailyn Smith 5, Katie Kehl 5.
Sumner — Alexandria Blaurock 3, Ashleigh Byers 2, Savaughn Johnson 7, Samiea Kendall 12, Kathleen Brisbane 16, Raqueia Bonswell 4.
Baldwin record: 15-7. Next for Baldwin: 6 p.m. Saturday at Basehor-Linwood in sub-state final.