Soden ignites Bulldogs' crowd to help
BHS

finish ninth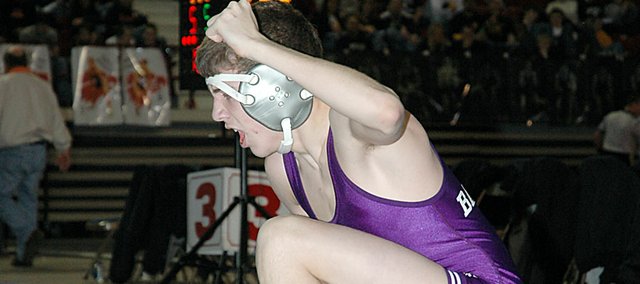 Photo Gallery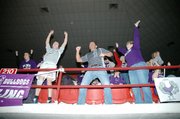 BHS state wrestling tournament
Baldwin High School finished ninth as a team at the 2010 Class 4A state wrestling tournament in Salina. Freshman Bryce Shoemaker led the way with a 103-pound state championship. Senior Josh Hanson finished third at 135 pounds. The Bulldogs qualified seven for state and six won at least one match.
SALINA — Although Baldwin High School freshman Bryce Shoemaker won a state title, it was Colby Soden who stole the show here Saturday morning.
The Baldwin High School junior electrified the Bulldogs' crowd with an upset victory over Eudora's Tim Wright in the second round of the consolation bracket. Soden entered the tournament 21-21 and Wright, who beat Soden at the regional tournament, was 26-17. However, Soden got his revenge when it counted the most.
"Coming in to the tournament, I'll admit I had my doubts," Soden said. "I had the worst record in my bracket and was at the bottom of the bracket. (Coach) Kit (Harris) managed to inspire me to do my best and I think I managed to surprise a lot of people."
Soden fell behind early and trailed 10-2 in the third period, before scoring 11 straight points in 1:20 to win 13-10. He scored an escape point to make the score 10-3. Then he took down Wright and put him on his back to score four points.
With nearly 20 seconds remaining, Soden tilted Wright to score a nearfall-3, which tied the score 10-10. With overtime looming, Soden ended the match with another nearfall-3 as time expired.
"I've never seen that happen before," Harris said. "It would be like being down four touchdowns in the fourth quarter of a football game and coming back to win. It was a crazy match. He kept wrestling and never gave up. That was probably the most exciting match I've seen in a long time."
When the match ended, the BHS faithful could be heard around the Bicentennial Center. They were sitting in the front section near the mat and they hollered and cheered for the BHS junior.
"My win over Eudora was probably the most exciting win I've ever had, with my state qualifying match coming in close second," Soden said. "The first two periods I didn't wrestle my best and let him get too big of a lead.
"Going into the third period something clicked in my head and I just gave it everything I had," he said. "When I took him to his back and was within three points, my instincts kicked in. I really don't remember thinking it through, but just doing it. All the drilling from during the year really helped."
Harris said he plans to show the video of the match to his team next year as an example of what can happen in any match.
"He had to get a couple tough wins in the consolation round at regionals just to qualify for state," he said. "He had the worst record in his bracket. I told those guys over and over again that records and rankings don't matter once you make it to state. It's the great equalizer. Good guys have to wrestle and when they don't, guys with worse records can knock them off. It happens all of the time. Colby is one who took that to heart. He had some awesome wins."
In the next round, Soden's season ended with a heart-breaking loss. He lost on a takedown with :01 remaining in the medal-round match to a Fort Scott wrestler who ended in fifth place.
"I'm really proud of how well I did at state, but I'm even more excited about the team's success," Soden said. "We weren't predicted to do even close to that well."
Baldwin finished ninth as a team with 48.5 points. That was 0.5 of a point higher than Louisburg and El Dorado. Clay Center won the team title with 129 points. It's their fourth championship in six years.
A year ago, BHS finished 22nd. The Bulldogs qualified five wrestlers in 2009 and three of them graduated last year. They only returned three team points from the squad this season.
"We have a lot to be pleased about," Harris said. "We only returned three state points from last year. Sure we had a freshman that scored high for us, but we had six point scorers at state. We had our third-highest team finish, which is great progress from last year."
Leading the way for the Bulldogs was once again Shoemaker. He went 4-0 and won the 103-pound state championship to be become the fifth Bulldog to win a state title. He finished his freshman campaign 42-4.
"That was an exciting moment for that kid," Harris said. "He deserved that moment. It's a whole season's worth of hard work coming together."
Shoemaker started the tournament with a quick pin in round one, but then had to wrestle the state's No. 3 ranked wrestler, Clay Mulligan from Scott City. The two lightweights battled tough for six minutes, with neither scoring and ending regulation 0-0.
In overtime, Shoemaker hit a quick slide-by for the winning takedown. In the semifinals, Shoemaker won an 8-0 major decision to set up a finals match against Colby's Dustin Reed, who Shoemaker had lost to last year in youth wrestling.
"They've gotten a lot bigger since last year, but I have too," Shoemaker said of Reed and Mulligan. "It was just kind of the same, except there was a lot more on the line than there was last year."
Reed took a 2-0 lead in the first period of the finals' match. Shoemaker said he didn't panic, but focused on tying the score. In the second period, Shoemaker took Reed down and put him on his back for a four-point takedown. Reed scored a reversal, but Shoemaker held on to win 7-4.
"It was a battle all the way through the match," Shoemaker said. "We were going at it, head to head. When he first got that takedown, I tried to keep my composure and stay focused. Then I got a good shot on him and took the lead. I was excited to get through it. This was one of my goals for the season.
"I learned a lot this season," he said. "I got my butt kicked and learned from that. I had a great year. It was fun. I want to thank my parents, coach Harris and my teammates for a great season."
Three other Bulldogs went 1-2 at the state tournament. They were sophomore Andrew Morgan (112), junior Greg Schiffelbein (140) and senior Heath Parmley (171). Junior Will Von Bargen (152) also competed at state.
"For three of those guys, it was their first time coming to state," Harris said. "All of them were upset they didn't place. They were really disappointed. That shows how far they've come, because a year ago they were just hoping to be a state qualifier. They have a lot to be proud of. We went 13-11 as a team at state."