Shoemaker takes state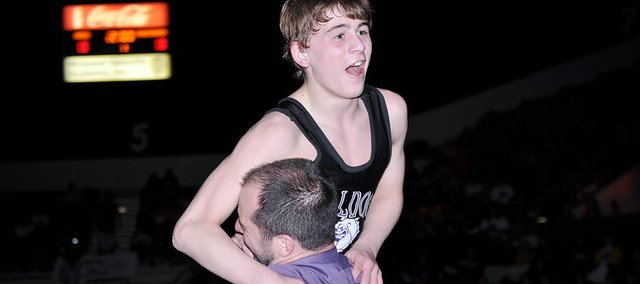 Bryce Shoemaker is used to winning state titles, but Saturday's was a first for the accomplished Baldwin High School freshman.
During his illustrious youth career, Shoemaker won four Kansas Kids' State Wrestling championships. He also finished third and fifth during two other seasons as a youth wrestler.
"I've thought about this for awhile," Shoemaker said. "A high school state title means a lot more than a kids' title."
Then came time for high school. He came in as Baldwin High's most decorated youth wrestler. Yet his coach wasn't sure how that would translate to the bigger stage.
"It makes a big difference when you put a lot of time and hard work in before high school," BHS coach Kit Harris said. "I had no clue what he could accomplish, but he started winning a lot of matches early in the season. I still thought, 'it's early and I don't want to start talking about state yet.' We just took it week by week."
Before entering high school, Shoemaker had dreams of winning a state championship. He watched Kevin Callahan, who also had success as a youth wrestler, win his state title in 2008.
"I've probably had the goal since sixth grade," Shoemaker said of winning a high school state title. "The Callahans (Alan and Kevin) would tell me that kids' state doesn't mean anything and that high school is a lot harder. I wanted to prove to people that good kids from kids' state can still follow up in high school and be successful."
Before his freshman season began, Shoemaker spent time at summer camps and national tournaments. During the fall, he went to Baker University and wrestled some of the Wildcats who joined Baker's first-year program.
Shoemaker's main practice partner was Roger Windham of Derby. Windham competes in the 125-pound class for Baker. Although the bigger and stronger Windham would beat Shoemaker, the BHS freshman learned a lot from the experience.
"It got my confidence really high, because some days I could stick with Roger," Shoemaker said. "Most of all, it was a confidence builder and helped me know what I can do. Jimmy May (Baker head coach) also helped me a quite a bit. He helped me improve my skills. It was hard and they kicked my butt, but it was all worth it in the end."
Shoemaker entered the season ranked in the top five in the state for the 103-pound weight class. Once the Bulldogs began competing in December, Shoemaker's name was well known around the area.
He began his season with a perfect 24-0 record after the first four meets of the season. During January, he lost three matches, two of which were to a nationally ranked wrestler from Oak Park, Mo. In February, his only loss came at a dual against Santa Fe Trail, but Shoemaker was wrestling up at the 112-weight class.
"He was wrestling great in December," Harris said. "He was on a tear. Then in January, he ran into some tough competitors and had a couple losses. He was still wrestling well, but he lost a little bit of intensity. We talked to him about that in February, because being quick and aggressive is his forte. At state, he hit his moves at the right time and took advantage of his opportunities."
Shoemaker began dominating once again during the final three weeks of the season. At the Frontier League tournament, Shoemaker won all three of his matches by pinning his opponent. The following weekend at the Class 4A regional, he went 3-0 with two pins as he won the tournament.
Qualifying for the state tournament wasn't his dream as a youth wrestler. He wanted to be on top of the awards stand Saturday night. After three victories Friday, Shoemaker found himself set to compete in the finals on Saturday.
His opponent would be Colby's Dustin Reed. Shoemaker lost his first-round match at kids' state a year ago to Reed.
"It didn't really bother me, I just wanted to win a state title," Shoemaker said of facing Reed in the finals. "That was my biggest thing. It was nice to get a little revenge, though."
The BHS freshman got his revenge with a 7-4 victory — and a gold medal.
"Bryce has been working for years at this," Harris said. "He didn't become good overnight. He's worked very hard for this and it was cool to see that big smile on his face."
Shoemaker was so excited he threw his headgear toward the Baldwin coaches after the final buzzer sounded. Tossing the headgear normally is penalized with one team-point deduction. However, most cases involving headgear being thrown is because the wrestler lost the match. Teammates and coaches joked with Shoemaker after the match about his celebration.
"Bryce is usually pretty calm," Harris said. "That official understood that he was excited. It's something that we'll joke with Bryce about."
Minutes after the match, the state championship still seemed surreal to Shoemaker. It wasn't until Monday at school when his accomplishment fully became real.
"It started settling in today at school, when everyone was telling me, 'good job,'" Shoemaker said. "That was really nice to hear from my fellow students."
He became Baldwin's fifth state champion and the highest-placing freshman at the state tournament. K. Callahan placed fourth as a freshman in 2005 and that was the previous best finish.
When asked about joining K. Callahan as a four-time placer or being Baldwin's first two-time state champion, Shoemaker wasn't shy about his future.
"I'm hoping to bring a couple more state titles to Baldwin," he said. "It will be hard, but it would be nice. It would look good on a resume."