Performing Arts Center bids approved by school board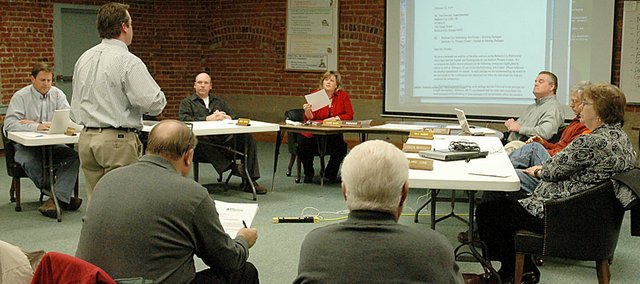 It took nearly 16 months after voters approved the November 2008 bond issue for the performing arts center bids to be approved by the Baldwin School Board.
On Monday, the school board took the first step toward construction happening on the new facility. The school board unanimously approved the bids recommended by the DLR Group architects and Manning Construction.
"The board approved all but two bids for the performing arts center last night," Supt. Paul Dorathy said. "They felt there were some discrepancies in the bidding, so they felt those two specialties should be bid again. The board rejected those, but everything else came out all right."
The two bids that weren't recommended were the theatrical equipment and lighting and the electrical bids. Those will be bid again and approved at a later school board meeting.
The 15 bids, two of which were combination bids, which were approved total $4,485,510.78. The projected cost for the project for the school district is $4,741,858, according to the budget presented Monday night.
The project will cost above that number, but the district will be reimbursed from the Federal Emergency Management Agency for its safe-room grant that was approved last year.
"They are a little bit lower than where we thought," Dorathy said. "Overall, everything is coming in right at budget as a whole. We are right at $22.9 million for the entire bond issue."
The performing arts center is the only project that is tracking over budget. The additional $901,502 that was passed for the bond issue is being used to pay for the road extension on the west end of town.
The district is extending Bullpup Drive from the Baldwin Elementary School Intermediate Center south to Elm Street. Then Elm will head west past the new Baldwin Elementary School Primary Center and connect with Lawrence Street.
"The road came in a little cheaper than they originally thought," Dorathy said. "It's nice that we were able to fit that within the bond projects' budget."
Construction on the road and new BESPC have begun. The performing arts center should be under construction in the near future.
"Construction will start sometime in March," Dorathy said. "They will put up safety fences and they will block off the road that goes between the two buildings."