Murphy to make history with Lumberyard exhibit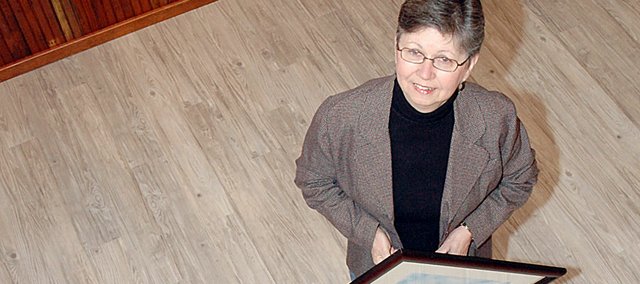 History will be made at the Lumberyard Arts Center Sunday when local artist Rosemary Murphy has the first-ever exhibit in the recently completed art gallery.
"Boy, is it historic," said Diane Niehoff, who has been at the forefront of efforts to refurbish the historic downtown building into a home for the arts. "Our inaugural exhibit and I'm extremely excited. I'm excited that it's someone like Rosemary, who has done so much work for it."
A reception for the exhibit will be from 5 p.m. to 8 p.m. with Murphy's original watercolors entitled "Close to Home" on display. She's well-known in the art world, especially locally, and is pleased to be the first to exhibit in the LAC.
"I'm really looking forward to exhibiting in Baldwin City because so much of my subject matter is taken from Baldwin and Douglas County," said Murphy. "It has been over 10 years since I've had an exhibit in Baldwin and I can't think of a better place than the Lumberyard."
Sandy Cardens, who is in charge of art exhibits at the LAC and has also been active with efforts to establish it from the beginning, thinks Murphy is the perfect choice to be the first artist on exhibit.
"Rosemary Murphy is one of the most talented and respected artists and teachers of art in our area," said Cardens. "She taught classes in the Lumberyard Arts Center while it was still the old lumberyard building and so it seems entirely appropriate that she would be the first to have an exhibit in the nearly completed first phase of the project.
"We certainly hope the community will come to see the beautiful work of Rosemary Murphy," she said. "We also hope the community members will attend to see the work being done by so many volunteers to bring this vision for the arts to fruition."
Such exhibits are one of the many reasons the project was started back in 2003. Classes are also being conducted at the LAC, as well as community events such as the recent Chocolate Auction and this week's performance by the Baldwin City Community Theatre.
While Murphy's exhibit may be the first, it won't be the last.
"We are so excited that artists are lining up to have an exhibit," said Niehoff. "We want to have an ongoing exhibit. We are also lining up volunteers to work the exhibit hours."
Murphy's exhibit will be on display through March 20. The gallery hours are Tuesday through Friday from 3 p.m. to 6 p.m. and Saturdays from 2 p.m. to 5 p.m. for the duration of the show. The reception will also have music from the local band "Forecast."