Council sends regulations back to planners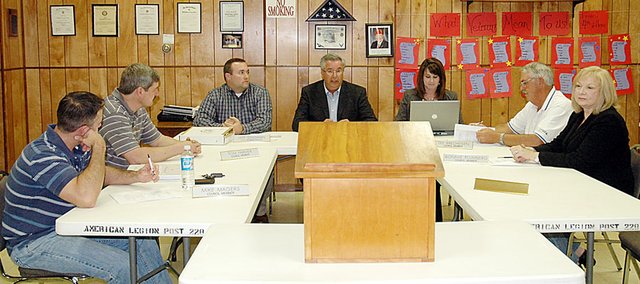 It took an interesting vote, but as expected the Baldwin City Council returned a 250-page document on zoning and subdivision regulations back to the planning commission for more work at Monday's council meeting.
The council recommended 14 changes to the document, which the planning commission had been working on for more than a year to update the zoning and subdivision regulations. The council had gone through the 250 pages during two work sessions that totaled around eight hours over the past two weeks.
Although the council voted 4-0 to send the document back, there was a separate vote on one of the most hotly contested regulation changes. It involves the regulations for subdivisions that feature 1- to 3-acre lots designed for more expensive houses. While the planning commission didn't succumb to pressure to allow septic tanks in such a subdivision, it did do away with the requirement of curb and guttering.
Council President Ted Brecheisen Jr. doesn't like that.
"Over the years we've worked to get curbed and guttered streets and I feel this is a step back," said Brecheisen. "They just make better areas. It looks like the people that want this want that because no one else will let them do it. The county won't let them do this.
"It just makes for a more level playing field where you're at," he said.
He brought up that if a subdivision with 1-3-acre lots was built, then another subdivision was built behind it with smaller lots that the streets through the first subdivision would then become feeder streets to the second subdivision. One wouldn't have curb and guttering, while the other would.
Council Member Tom Farmer said he didn't think about that and agreed with Brecheisen.
"I'd just like for them to look at it again," Brecheisen said of the planning commission's new stance on curb and guttering.
He then made the motion for that to be done, Farmer seconded it and it passed 3-1 with Council Member Mike Magers voting for it. Council Member Bonnie Plumberg voted against it. The fifth council member, Robin Bayer, was out of town and didn't attend the meeting.
The planning commission can choose to make or not make the changes, or take no action, according to Mayor Ken Wagner.
It was the only business item on the agenda. Plumberg reported on the public health and safety committee's last meeting. The main item from there involved recommendations to change ordinances involving a parking situation in the mobile home park south of Baldwin Junior High School. The council will vote on those at the next meeting on March 15.