BHS

girls sweep De Soto with sub-state rout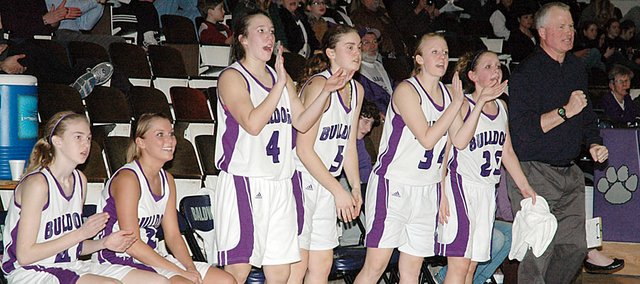 After a disappointing loss on senior night, the Baldwin High School girls' basketball team won its final home contest Monday night.
On Thursday night, the Bulldogs hosted Ottawa for their regular season game. The Cyclones finished unbeaten in the Frontier League, as they beat the Bulldogs 55-45. Baldwin (14-7) finished 5-2 in the league for third place.
"I thought we fought very hard," coach Bob Martin said Thursday. "We had a chance going into the fourth quarter, but they got away from us a bit in the end. I thought our girls played their butts off tonight. I was really proud of our seniors, because they played as hard as they could all game."
A win against Ottawa would have given the Bulldogs a tie for the league title. However, they had to quickly put that game behind them as they hosted De Soto Monday night for the first round of the sub-state tournament.
BHS had previously beaten De Soto twice this season, including a 57-42 win at De Soto on Feb. 23. Despite the two wins, Martin was concerned about playing the Wildcats again.
"I'm always worried about playing a team a third time," Martin said. "You don't know what adjustments they are going to make. It's so late in the year that it's hard to make adjustments, so you just have to go out and play. That's what we did. We came out and played hard tonight. We also played really well."
Baldwin defended its home court for the second time against the Wildcats. Strong second and third quarters helped Baldwin crush the Wildcats 53-27.
"I feel so much relief right now," senior Taylor Brown said. "The first-round games are so nerve-racking, so it's good to get that one out of the way. We can take a breath now."
Brown said BHS football coach Mike Berg gave the Bulldogs some added motivation before Monday's contest.
"Like, we knew we were the better team and could beat them if we played well and did everything right," Brown said. "We even had some added motivation tonight. Coach Berg told Ramie (Burkhart) that he read online that people were saying there's no way Baldwin could beat De Soto three times in a row. So that got us fired up before the game. I went up to him after the game and he told me he made that all up. Whatever he did, it worked."
It definitely worked. Burkhart led all scorers with 12 points as she helped the Bulldogs dispose of De Soto in less than three quarters.
Baldwin built an early 5-1 lead with a three-pointer from junior Allison Howard and a layup from senior Rachael Enick. Burkhart scored two more shots to give BHS a 9-3 lead after the first quarter.
Then the Bulldogs began to open their lead. They led 11-7 early in the second quarter, before finishing the half on a 15-5 run. Brown ended Baldwin's half with a three-pointer before time expired.
"I love that shot," Brown said. "Connor (Twombly) always laughs, because she says 'I give you the worst passes.' I just kind of throw it up and it often goes in."
Baldwin continued to pull away during the second half. BHS outscored the Wildcats 16-4 during the first seven minutes of the third quarter. BHS led 42-19 heading into the final eight minutes of the contest.
"I was happy we had a nice lead at halftime and we didn't let up in the third quarter," Martin said. "We talked a lot about that. We didn't let them have a chance to get back in it."
While Martin and Brown were both happy about the Bulldogs' offensive abilities Monday, they both agreed the team's defense won the game.
"We were able to force some turnovers and do some good things defensively," Martin said. "For the most part we were good defensively. We gave up too many rebounds, but that's part of getting better."
Baldwin will play its semifinal game at 6 p.m. tonight at Basehor-Linwood High School. BHS will play No. 3 seed Sumner Academy, which beat Kansas City Piper on Monday.
"We are just taking it one game at a time," Brown said. "Our goal is to make it to state, but we're taking it one game at a time."