BHS

girls advance with third win over De Soto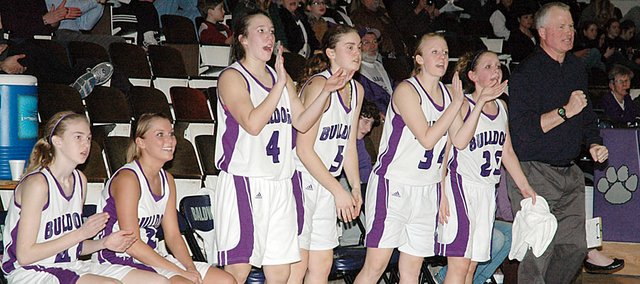 Strong second and third quarters helped the Baldwin High School girls' basketball team to a first-round victory at home in its Class 4A sub-state tournament.
Baldwin beat De Soto for the third time this season. BHS won 53-27 to advance to Thursday's semifinal game.
"I'm always worried about playing a team a third time," coach Bob Martin said. "You don't know what adjustments they are going to make. It's so late in the year that it's hard to make adjustments, so you just have to go out and play. That's what we did. We came out and played hard tonight. We also played really well."
Senior Taylor Brown was also nervous before the contest.
"I feel so much relief right now," senior Taylor Brown said. "The first-round games are so nerve-racking, so it's good to get that one out of the way. We can take a breath now."
The Bulldogs led 11-7 early in the second quarter, before finishing the half on a 15-5 run. Brown ended Baldwin's half with a three-pointer before time expired.
Baldwin continued to pull away during the second half. BHS outscored the Wildcats 16-4 during the first seven minutes of the third quarter.
Baldwin will play the winner of the Kansas City Sumner Academy and Kansas City Piper game on Thursday at Basehor-Linwood High.
Score by quarters
B — 9 17 16 11 - 53
D — 3 9 7 8 – 27
Individual scoring
Baldwin — Connor Twombly, 6; Rachael Enick, 6; Allison Howard, 7; Ramie Burkhart, 12; Myranda Behrens, 3; Katie Brecheisen, 4; Taylor Brown, 9; Katie Kehl, 6.
De Soto — Tami Crow, 5; Shelbi Petty, 5; Kelsey Fisher, 2; Katie Gorman, 11; Katie Williams, 4.