Twombly named 2010
BHS

female senior athlete of the year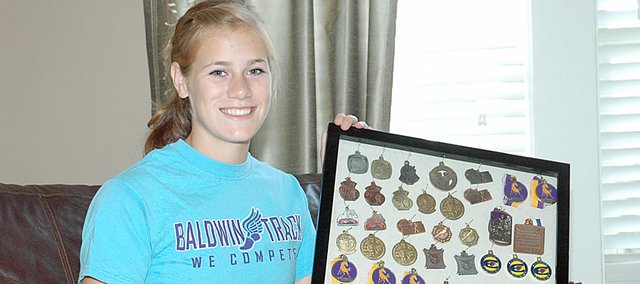 Three years ago, Connor Twombly was faced with a difficult decision to make heading into her sophomore year at Baldwin High School.
Does she continue playing volleyball? It's the sport she was used to playing in the fall and she had a chance to make varsity as a sophomore. Or does she try cross country? To her, it would be a new experience and a lot of running.
"After her first race of the track season, we were all telling her she needed to do cross country," said Julie Hill, BHS cross country runner and one of Twombly's best friends. "We talked to her about it all season."
She chose both that season. She played two varsity volleyball matches as a sophomore. However, she ran all nine meets on the varsity cross country team.
"She ran really well in junior high, so we tried to get her out as a freshman and she played volleyball that year," BHS cross country coach Mike Spielman said. "Then she had a really good freshman track season, so I talked to her, because she had some really good gifts in running. She decided to come out for both her sophomore year and had some great success in cross country. Then the last two years, she only ran cross country."
Twombly finished her sophomore cross country campaign by placing 15th at the Class 4A state meet. She also helped the Bulldogs win the first of three consecutive state championships. She was hooked on cross country as she only participated in it during her final two fall seasons.
"I really missed volleyball," Twombly said. "It was one of my favorite sports and still might be one. That was really hard. It was all Mr. Spielman's fault. During track season my freshman year, the track girls and him were all really persuasive. He convinced me that I could become good at running. It ended up being the best decision ever. I definitely don't regret giving up volleyball for it."
Successful decision
The decision to be a distance runner paid off for Twombly. She recently finished her BHS career at the state track and field meet. She came home with two gold medals and a team state title.
During her four years at BHS, Twombly accumulated seven state championships. She won three as a member of the cross country team, two as a member of 3,200-meter relay in track, one as a member of the 1,600-meter relay in track and the final one as a member of the 2010 BHS girls' track and field team.
Those accomplishments, along with her cumulative GPA and other athletic achievements earned her the honor of being named the Baldwin City Signal's first-ever BHS female senior athlete of the year.
"She had a great career," Spielman said. "All three years she was out for cross country, we won a state title and two of those years, she was an all-state runner. She's had a ton of state titles that a lot of kids would envy. She's been able to be a part of four team titles and three relay state championships. She's also had some individual success, too."
Twombly never realized how high her state championship count was until she sat back after this year's state track and field meet. It was then that she began to enjoy the successful career she had as a Bulldog.
"My sophomore year after we won the state championship, I remember that being the best feeling in the world," Twombly said. "I just wanted to relive that over and over again. It was such hard work that I never thought it would happen again, especially seven times.
"I remember Calleigh (Durr) and Corinna (Papps) always talking about wanting a handful of gold medals or too many for one hand," she said. "I never really thought about it, but after I put it all together it was fun to realize how many I have. You never really notice that when you're in the moment. It's awesome to think about."
Going out in style
Twombly's senior track campaign was her most successful. She helped the 3,200-relay team to numerous victories during the season, as well as medaling in the 800-meter run at several meets.
In early May, she was placed on the 1,600 relay team in place of an injured Lyndsey Lober. Twombly was quite nervous before the race at the Redbud Classic in Wellsville. Once it was over, she had secured her spot, as the Bulldogs won the race.
At the state meet, the 1,600 and 3,200 relays brought home gold medals. The relay teams also set school records in both races.
"I knew it was going to be a long shot for the state record, but we all ran our fastest times of the season," Twombly said. "I was really happy about that. We also got the school record, which was awesome."
To top off the finale, the 1,600-relay victory propelled the Bulldogs into first place in the team standings. It was the first-ever state championship for the BHS girls' track and field team.
"It was definitely exciting," Twombly said. "I couldn't have imagined it any better. Everybody got the right amount of points to make it exciting at the end. I was kind of hoping for that to happen for a while and it did, which was so exciting."
Her senior cross country season also ended with a team championship, but Twombly wasn't happy with her own performance. After finishing fourth as a junior at the state meet, she had aspirations of placing high as a senior, but the results never came.
"There were times in cross country, where I know she wasn't feeling very well or struggling with things," Spielman said. "But she kept battling her way through it and did a really good job for us."
At the state meet, Twombly finished 29th. Despite her place, Spielman remained optimistic about her meet and season.
"There are a lot of people that would love to place that high at the state meet," he said. "Yeah, she was our seventh runner, but she would probably be the second or third runner on most teams. She's not going to remember that as much as she'll remember the team championship."
Although Twombly wasn't pleased with her individual standing, she was thrilled to win her third straight state title as a team in October.
"I wasn't very happy about the way I ran all season," Twombly said. "Just knowing that I had an awesome team to back me up and we still ran unbelievable made it one of the best seasons ever."
Twombly's senior season of basketball was even a success. She started as the shooting guard on a Bulldogs' team that finished 15-8. They were a three-pointer or two away from qualifying for state for the first time since 1997.
"We did really well this year," Twombly said. "Every single tournament we were in this year, we finished runner-up. That's OK, because we still did really well and I was happy with the season. We weren't expected to do much, but we had one of the best seasons at BHS in a while."
Hill was a teammate of Twombly's on all three sports during all four years, except her freshman year of cross country. She especially enjoyed their senior year together.
"She's a really good teammate and leader," Hill said. "She keeps focused and she tries really hard in everything she does. I think that rubbed off on everybody else.
"We had a great senior year," she said. "It was a lot fun. It was fun to help the younger kids excel, too. It was fun to win two state titles with her this season. She is always fun to be around."
Twombly will continue her running career at Drake University in Des Moines, Iowa. She will run cross country and track. Her older brother, Isaac Twombly, just completed his freshman year of track and field at Drake. She is nervous about running in college, her coach knows she'll work hard to achieve success.
"She just has to get in there and figure it out," Spielman said. "Anybody that wants to work hard and put the time in, good things will come. It may take time and she'll have to pay her dues. It's going to be hard work, but I think she's up for it."