Celebrating a century of fire fighting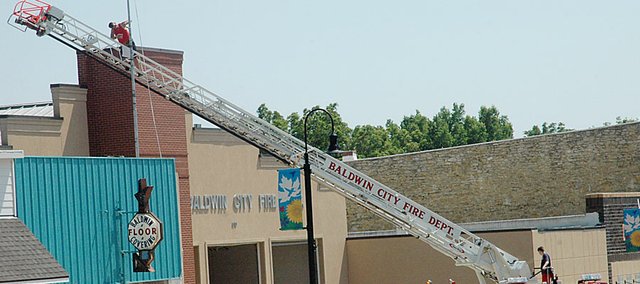 In 1910, the Baldwin City Volunteer Fire Department was chartered. On Sunday, that century of fire fighting will be honored with an open house at the fire station from 1 p.m. to 5 p.m.
The 23 firefighters who comprise the department in 2010 will be giving tours of the station and equipment. They are the latest in a long line of volunteers who have answered the call to protect Baldwin City.
Fire Chief Allen Craig has been a part of that group for 39 years starting in 1971 and has served as chief for 26 of those years. He points to the "old-timers" before him, such as Homer Schoepflin, who was chief for more than 40 years, Archer Carlson, who also served as chief, Dale Caruthers, Leon Rockers, Fred Plank, Larry Francq and Alba Andrews.
"Thanks to all of the many past firefighters that gave all of the new firefighters their knowledge and leadership for many years," said Craig. "It has been my honor to be chief for all these years and to work with them in the hardest of times at the sounding of the pager, at all hours of the day or night, 365 days a year.
"I am only one person; it takes many volunteers to do the job of fighting fires and answering medical calls in and around the city of Baldwin City," he said.
He also credits many Baldwin City Councils for supporting the department's efforts, specifically the council of 1998 that approved building the new fire station and purchasing the Quint fire truck that is the flagship of the fleet.
"It takes a lot of volunteer time from all of the members to have a department and equipment that we have today," said Craig. "We have had many councils that have had faith in the department and the volunteers to be here today."
In addition to the tours Sunday, refreshments will be available, raffles will be held and commemorative coins can be purchased. The history through words and pictures will also be on view.
"I hope the community will come out to support the efforts of the fire department," said Mayor Ken Wagner. "They've done a great job protecting Baldwin City for a century."