City to get tough on unsafe structures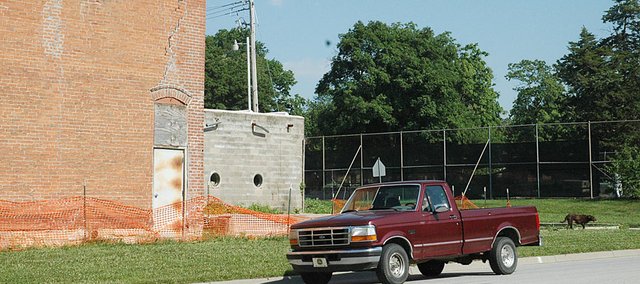 Unsafe structures in Baldwin City will no longer be tolerated. That's the message from the Baldwin City Council after Monday's meeting.
The council unanimously passed resolutions for hearings regarding four properties that have been deemed unsafe. One of those, in the 600 block of High Street, also had immediate stipulations placed on it to allow barricades to be built to protect people.
"This is the beginning of us moving forward to enforce codes and protect the safety and welfare of people in the community," said Mayor Ken Wagner. "It's our job to enforce the codes that are on the books. The whole object is to get property owners to take care of their property."
The council's action sets hearings for Aug. 2 for the property owners to give reasons why the unsafe structures haven't been fixed or torn down. Codes Inspector Tina Rakes told the council that she has been talking to the property owners involved for six months to give them a chance to comply. She said she would continue to work with them, too, but the process to force those changes needed to be started.
The property that had the immediate action is on the corner of Sixth and High streets. It is an older brick/stone building and the northeast corner of it is crumbling. Fencing had been put up around the building recently, but more permanent barricades will be added.
Wagner knew of the property and knew steps were being taken regarding it. But when he saw on the news that a building had collapsed in Kansas City, killing a person, he decided enough was enough.
"We've been talking to this property owner for some time," said Wagner. "When I saw the news on the place in Kansas City, I called (City Administrator) Jeff (Dingman) and said to step this up. We're not going to have that in Baldwin City."
Dingman and Rakes were to discuss what types of barricades to put up on Tuesday. The other properties in question aren't as dangerous and include two detached garages and a porch area that are falling apart.
City Attorney Matt Hoy was asked if the city had any liability from the properties and he assured the council it didn't. All costs associated with any action taken by the city will be billed to the property owner, such as the barricades to be built along Sixth Street.
The city council also approved unanimously to accept a bid of $290,431 from Eaton Electrical of Lenexa to add four breakers to the electrical substation. That and additional electrical line work for it are expected to take a year to 18 months. At some point, a planned electrical outage will be done for final installation, Dingman said, adding that residents and businesses would be informed about the outage well ahead of time.