Hanson named
BHS

male senior athlete of 2010
BHS

wrestlers places third at state, earns academic recognition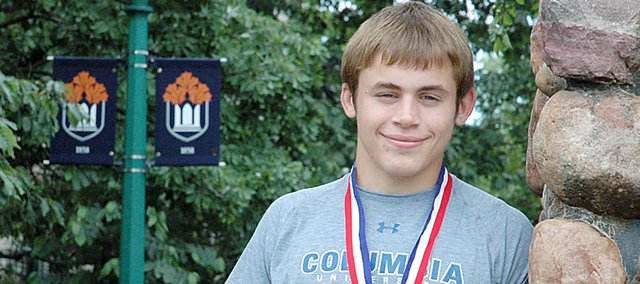 Josh Hanson worked nearly as hard on the mat as he did on his schoolwork during his four years at Baldwin High School.
After completing his goal of earning a medal at the state wrestling tournament in February, Hanson has earned several honors for his wrestling and academic success. Those honors and his success as a BHS wrestler helped him be named the Baldwin City Signal's first-ever BHS male senior athlete of the year.
"He had an awesome season and it paid off at the end of the year," BHS coach Kit Harris said. "He won a league championship, regional championship and a third-place medal at state. Then recognitions started pouring in that showed all of his hard work. He really was a hard worker in school and wrestling."
Since the state tournament, Hanson was honored with two academic awards. He was named to the First-Team All-State Academic Team by the Kansas Wrestling Coaches Association.
He earned 3.94 GPA and graduated as an honor student with distinction. His grades also recently got him named a 2010 Academic All-American by the National High School Coaches Association.
"He is one of the hardest workers both in the classroom and on the mat the BHS wrestling program has had," Harris said.
Joel Eberhart, BHS assistant wrestling coach, said Hanson set the standard for the Bulldogs' team.
"Josh was an example for the rest of the team on how to work on and off the wrestling mat," Eberhart said. "The hard work he put in, in the wrestling room, really paid off for him and it was a fitting end to his great season and career."
Hanson's hard work in the wrestling room began with perfect practice attendance during his four years as a Bulldog. One of Harris' postseason awards is the Ironman Award, which is given to each wrestler who doesn't miss a practice during the season. Hanson is the only Bulldog during Harris' 11 years at BHS to win the award all four years.
"The thing about Josh that is unique from other kids is that they will work hard off and on, but for Josh it's just a lifestyle to be fit," Harris said. "He's always lifting weights, running, eating healthy. He just keeps himself in shape. It's just a lifestyle for him. That helped him stay injury free for the most part and avoid illnesses."
Hanson said he always put practices first and tried to plan everything else around those two hours per day from mid-November through February.
"I never scheduled anything during practice, because I knew I should be there," Hanson said. "It's important to be at practice. I just took my vitamins each day and stayed healthy. Last year, I sprained my knee, but I still worked out at practice."
Those four years of perfect attendance helped Hanson win many matches and qualify for the state tournament three times. He won no fewer than 25 matches every season at BHS. As a freshman and junior, he went 1-2 each year at the state tournament.
"It's not like he did badly his first three years," Harris said. "He just didn't reach the goals he had for himself, which were high goals. That definitely fueled the fire for his senior year. He came into the season on fire and ready to have a great year. He was on a mission to get better every day at practice."
Hanson placed in the top three at the first four tournaments of the season, including the 135-pound championship at the Eudora tournament. His only finish worse than third was at the Bobcat Classic, which is regarded as one of the toughest in the state.
He won his second league title as a senior. The following week, he won his first-ever Class 4A regional championship.
"Three years of bad regional or state tournaments helped motivate me to wrestle better this year at state," Hanson said. "I definitely wanted to do something my senior year."
At the state tournament, Hanson began 2-0 before his semifinal match. He led Andale's Colton Eck 2-0 heading into the second period. He chose bottom in the second round and was pinned in the third round.
"The only one I wish I could have changed was my semifinals match against Eck," Hanson said. "I would have wrestled that a bit different and made smarter choices."
That was his only slip-up as he went 4-1 at state. He won his first match with a pin. His first consolation match was won 15-0. Hanson's final match as a Bulldog resulted in a 6-4 victory and a third-place finish.
"It was definitely the best moment of my high school career," Hanson said. "I felt like a lot of years of hard work had finally paid off. It felt really good."
Hanson finished his career with 126 wins, which ranks fifth on the BHS all-time wins list. While Hanson enjoyed his individual success, his favorite memory of his senior season was the camaraderie of the Bulldogs' squad. It helped him enjoy the final season at BHS much more than he had in previous years.
"The best part of the season was the team," he said. "What made it so great was this was the most fun team I've been on during my four years of wrestling at Baldwin. We had a lot of companionship and we had fun together. It made the season go a lot faster and more fun, because everyone got along."
Hanson also credited Harris for his success as a BHS wrestler.
"He is definitely one of the best coaches in Kansas and in wrestling," Hanson said of Harris. "He's great to work for and not many people get the privilege to compete for such a great coach. He always tried to make it fun and joke around with us. When he needed to be serious, he could be to get his point across to us. He had a good balance of fun and work."
Harris said Hanson's success as a senior could be attributed to his training. He would wrestle Eberhart during practice, which challenged him because Eberhart is taller and longer limbed.
"Well, basically I gave Josh looks he couldn't see from anyone else in the wrestling room," Eberhart said. "I am tall and lanky. You really saw it come out at state, because almost every kid he wrestled was considerably taller than him. My style of wrestling made him open up on his shots and you saw Josh take all of the kids down he wrestled. Also, we just really had him focus on relaxing and not putting too much pressure on himself."
Hanson will now begin a new wrestling career at Baker University next year. He signed a letter of intent to wrestle for Baker's second-year head coach Jimmy May.
"It will be interesting to see how different college wrestling is from high school," Hanson said. "I'm ready to compete and see how it goes."