Good or bad weather, Thomas event still popular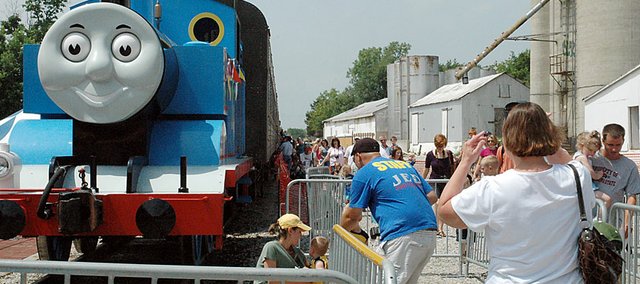 Rain or shine, Thomas the Tank Engine will keep rolling down the tracks in Baldwin City.
There were plenty of both during the final weekend of the annual event. On Friday, the sun was shining and hundreds of families experienced a warm, humid day of Thomas.
Then the rain came Saturday morning. Rain showers fell on the area for a couple of hours, but once they stopped late in the morning, the sun came out and the temperatures rose.
"The rain didn't keep people from coming," said Ballinger, event co-chair. "They bought their tickets, so they still came to see Thomas. We really had a good turnout for as much rain as we had over the weekend. They came dressed for the weather.
"Basically, people had bought their tickets and when you spend that much on tickets, you aren't going to not ride the train," she said. "For of a lot of families, it is their vacation. Instead of going far away, they choose to stay closer to home and have family time, because they love it."
During the rain showers, many of the visitors took shelter under the tents, which cover the Imagination Station (children's activity tent) and the merchandise tent. After the rain fell, activities at the Midland Depot continued as normal.
Children went back to the magic show, inflatable moonwalk and slide, storyteller and the Imagination Station. Mud or grass, the children weren't bothered.
"There were plenty of tents out here, so they could get in from the sun or the rain," Ballinger said. "Of course, they had to walk through some mud last weekend. The grass became mud with all of the people walking on it, but they dealt with it. It was no big deal.
"We had kids enjoying the Imagination Station, even though the mud was kind of thick in there," she said. "Most of the parents took off their shoes and went barefoot. They didn't seem to let the mud be a hassle."
Ballinger did say some of the visitors to "A Day Out With Thomas: 2010" were late to their corresponding train rides. If anyone was late, they were still able to ride the train, she said.
"The trains didn't shut down," Ballinger said. "They ran no matter what happened. We didn't miss a train, because of the rain. We didn't turn anybody away that had tickets bought, even if they missed their train, because they just rode the next one."
During Thomas' two-weekend stay in Baldwin City, Midland Railway sold nearly 15,600 tickets for the 25-minute train ride. That number is just less than last year's total, which was between 16,000 and 17,000 riders.
"Baldwin has kind of gotten the first two weekends after Memorial Day," Ballinger said. "We have done it in August and it's hotter than all get out. Plus, it's too close to school starting, so the teachers and students can't help us. We've also done it in July and it was so blessed hot that year. So now we try to do it the two weekends after Memorial Day, but last year our first weekend was Memorial Day weekend. We don't have a choice on the dates, but these weekends are working well for us."