Baltzell completes Fargo marathon as personal goal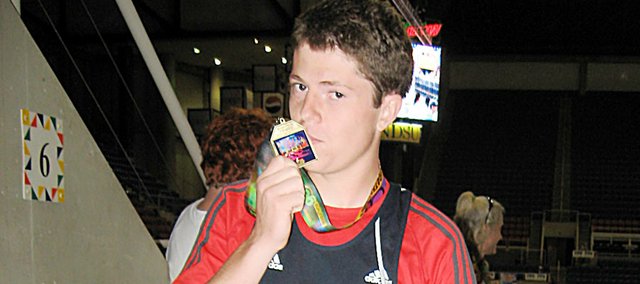 What began as a senior project turned into a personal challenge for Baldwin High School's Brandon Baltzell.
To be exact, it was a 26.2-mile challenge for the BHS senior-to-be.
Several months ago, Baltzell was planning on becoming the third BHS student to run a marathon for his senior project. Kyle Lauridsen and Brad Canterbury were the other two Bulldogs who accomplished the feat this decade.
In January, the Baldwin School Board approved the suspension of the BHS senior projects for the 2010-2011 school year. This meant Baltzell wouldn't have to run the marathon, but he wasn't about to give up.
"At that point I decided I was still going to do it," Baltzell said. "I just would not have to write a paper about it or give a presentation."
His senior project wasn't the only reason he wanted to complete the challenging race. It was something he'd thought about for years.
"I am a goal-oriented person," Baltzell said. "I enjoy setting a difficult goal for myself and accomplishing it. I have been exposed to marathon running for a long time. I have an uncle who lives in Massachusetts and ran marathons for a long time. I think I always had it in the back of my head that one day that would be me.
"I knew it was to my advantage to run one at my age, because I really wanted to run a marathon sometime in my life and I was not sure I would ever do it later in life," he said. "There will always be an excuse not to do something; if you really want something you have to quit making excuses and do it."
So on May 22, Baltzell ran the Fargo (N.D.) Marathon. He finished the 26.2-mile trek in a time of 4:12.23, which was nearly eight minutes faster than his goal time of 4:20.00. He finished eighth out of the 15 runners in the male 15-19 year old age group.
"I made it 100 feet past the finish line before sitting down," Baltzell said. "I had nothing left. I had to fight not to pass out. My body wanted to shut down."
BHS teacher and coach Kit Harris, who's ran one marathon and is training for another now with his wife Sarah, was proud of Baltzell's accomplishment. "It's awesome," Harris said. "Not many young runners do that. A lot of them are still competing at their school. It was going to be his senior project, but they cut the senior projects. He still wanted to do it as one of his goals. He drove all the way to North Dakota and ran a great time, too."
Training trials
As a 17-year-old high school student, finding time to train for a marathon can be quite difficult during the school year. First, he had to find a training program. He searched online and found Hal Higdon's 18-week training program.
The workout program called for three runs during the middle of the week, a long run on Saturday and a cross-training day on Sunday. It built up from three- or four-mile runs the first week to a long run of 20 miles as the longest distance during the training.
"I love to run," Baltzell said. "OK, maybe not all the time, but that is the mentality I took into every run. I had good days and bad days, but at the end of the day I was able to keep pushing by telling myself I love to do it."
In the beginning, fellow BHS student Ally Foye was planning on joining Baltzell in the marathon training. However, she had to stop running because of injuries. This forced Baltzell to run on his own during the cold winter months.
"I did all of my training runs by myself," Baltzell said. "I always ran alone, but it never felt like I was alone. I treated my training as my worship time. It was always a silent part of my day that allowed me to spend time with God. Sometimes I would be praying for strength on a particularly difficult run and sometimes I would just be contemplating some scripture I had read. All of my strength and mental toughness came from God."
Baltzell even admitted the hardest run during the entire process was his 20-mile long run. He said it was worse than the marathon itself.
"My toughest training run was my 20-mile run," he said. "I had a tougher time with that run than the marathon itself. I was dehydrated, it was 90 degrees and I was fighting a severe wind. My body never wanted anything more than to stop after mile 18, but I had been praying and I was able to hold on for those last two miles. I would not have that ability without God."
Besides the basic school work, Baltzell was also involved in the BHS Real World Design Team. The engineering team took hours away from his day during the winter and early spring. After winning the state competition, the Bulldogs went to Washington, D.C., for the national contest.
As most people know, BHS brought home the national championship in late March. Baltzell and other team members spent the weeks prior to the national contest working late hours, especially during the final days. That stretch of spring break was brutal on his running schedule.
"The toughest part of training was making time," Baltzell said. "I quickly discovered I could not find time. For something so time consuming, I had to make it a priority. It was difficult when I was working on the Real World Design Challenge, and to be completely honest, I neglected my training. Another hurdle was the bout of strep throat I got during my most intense week of training. It set me back about a week."
During his entire training process, Baltzell sought input from Harris and others. His teacher was happy to discuss anything from training runs to diet, if he thought Baltzell could benefit from the knowledge.
"I had him in class and we talked all the time," Harris said. "I told him all about my experiences and Sarah's experiences, too. It's quite a challenge, so there are a lot of small things to think about, like your diet, when to do your long runs and how to keep your energy during the race. It was kind of fun to talk with him about it before his race."
Thrill of the race
When searching for a marathon to run, Baltzell was careful to choose one with a date that wouldn't conflict with anything else. His summer was busy with a variety of plans, so he wanted to run one near the end of the school year.
He eventually chose May 22 as the date, which was the day after the school year ended. It was also the same day as the BHS graduation ceremony.
"I was sorry to miss watching my friends graduate, but it was the only weekend for a while that I could have run it," he said. "The 10-hour drive to Fargo, North Dakota was worth it."
On the morning of May 22, he took the starting line with nearly 2,100 runners. It was a cold, rainy morning in Fargo. Before the race began, an older runner gave Baltzell a piece of advice.
"I told him that it was my first marathon," Baltzell said. "He said, 'That means no matter what time you get it will be a personal record. Just have fun.'"
The rain continued during his first five miles, but then the rain stopped and the sun came out. Throughout most of the race, he stayed with the 4:15 pace group. Like most organized races, the marathon had water and aid stations set up on the course. Baltzell admitted those were greatly appreciated during the grueling race.
"Fargo is described as the most friendly marathon and it held up to its reputation," he said. "There were thousands of people lining the course cheering the runners on. There was an aid station every other mile serving water and Gatorade. Throughout the race people had sprinklers that you could run through to cool off. They were very well received."
However, one station almost turned into a bad situation.
"Some people also fashioned their own aid stations," Baltzell said. "I came up to one of those make-shift aid stations and held my hand out for water when the runner in front of me asked 'Water?' The lady with the cup said, 'No, beer.' I am really glad that runner asked because that would have been a nasty surprise in the middle of my race"
After surviving the aid station, Baltzell enjoyed a conversation between two women during the race. Although he lives in Kansas, which is known as a flat state, he was shocked at the lack of hills in Fargo.
"North Dakota is the flattest state I have ever seen," he said. "At about mile seven, one woman next to me turned to another and said, 'Thank goodness that hill is over' and the other one said 'I know. That was two in a row!' I had to turn around to see what they were talking about. Their 'hills' are nothing like the hills here."
With the "hills" past him, the BHS runner wanted to end the race with a strong finish. With less than three miles left, he left the 4:15 group and picked up his pace toward the finish line.
As he rounded the final corner into the Fargo Dome, Baltzell began sprinting. A runner next to him joined in the sprint. Neck-and-neck they flew to the finish line together, passing several runners on the way.
With one marathon down, Baltzell isn't looking to stop anytime soon. He is already thinking of running another next year and maybe more in the future.
"I am happy I ran the race," he said. "It is a great accomplishment to run a marathon. Being so young means I have more years of marathon running left in me. I plan to run another marathon next year. I will train as a winter sport between cross country and tennis. I missed tennis this year. I plan to run ultra marathons later in life. I want my body to be finished developing. I hope to run a 50-mile race, maybe not until my 30s, though. I don't want to risk injury."