Cat in the Hat to pop up in Baldwin City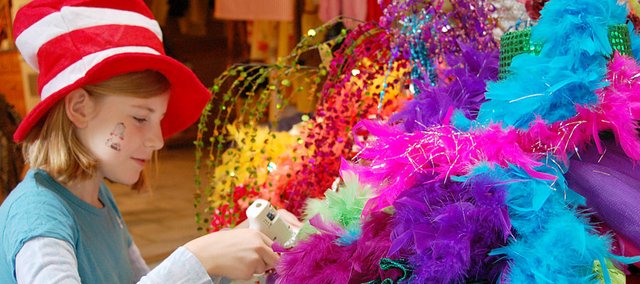 Remember the first time you read the Cat in the Hat? When you learned about the Whos on their small speck of dust? Or watched Horton the Elephant climb into the tree?
These stories from the world of Dr. Seuss leap from the page to center stage during the Baldwin City Community Theater's presentation of "Seussical."
"The story isn't from just one Dr. Seuss book, it's from several," says Mary Jane Mingus, the show's director. "Throughout the course of the performance, we meet Horton the Elephant, Gertrude McFuzz and the Whos, along with dozens of other characters. Dr. Seuss didn't write them all into the same book. But the show brings them all together."
For the past three months, more than 60 area residents have been rehearsing, building and creating a trip through the imagination of Dr. Seuss with stops at the Jungle of Nool, McElligot's Pool and Palm Beach.
"This is probably one of the most family friendly shows I've ever worked on," said Mingus. "Our cast is full of local children and adults having a wonderful time, and I know audiences will want to come along for the ride."
Performances begin at 8 p.m. in the "Lotatorium," the grassy area between the Post Office and the Lumberyard Arts Center in downtown Baldwin City.
Tickets are $8 for adults and $6 for children, but children ages 3 and under attend for free. The show runs June 17-20 and June 24-26. Audience members should bring lawn chairs or blankets for seating. There will be concessions available at the musical.
For tickets, call the BCCT at 785-594-7440. Tickets also will be available at the gate.