Neighbors: Diane Franklin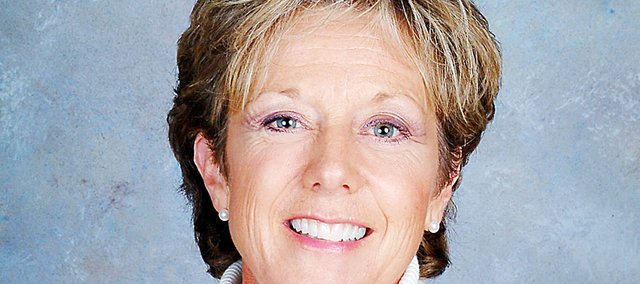 Name: Diane Franklin
Occupation: Broker/part owner at Reece and Nichols Gold Realty, LLC.
Family: Husband, two stepsons, five grandchildren, mother and two older sisters.
Place of birth: Edwards Air Force Base in California.
Q. How long have you lived in Baldwin City and what brought you here?
A. Since January of 2005. That's when I married my handsome husband, Bob.
Q. What's the biggest risk you've ever taken?
A. Marrying my second husband … third time's a charm.
Q. What's the best piece of advice you've ever been given?
A. Don't spend time with people who aren't good for you.
Q. What two things would you want people to know about you?
A. I grew up as a military brat, so I'm very low maintenance.
Q. What did you want to be when you grew up?
A. Married with children … one out of two ain't bad.
Q. What's the best way for you to get away from it all?
A. Doing my barn chores and hanging with our horses.
Q. What's your ideal vacation spot?
A. Camping and trail riding with Bob and our horses.
Favorite things
Song: "I'll Follow the Sun" by the Beatles.
Movie: Damn Yankees
Color: Denim blue
Food: Anything Bob cooks.