Hartshorn earns second team all-state honor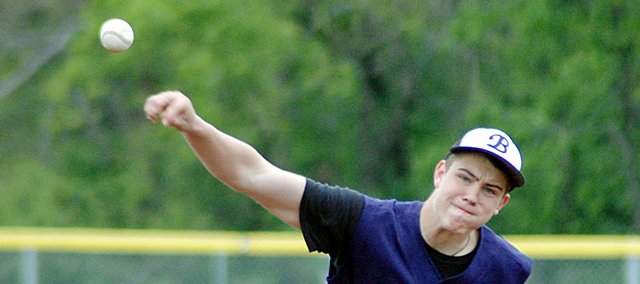 Taylor Hartshorn made a name for himself as a freshman in the Frontier League.
Opposing league coaches noticed him for his outstanding baseball season as a Bulldog. One of those coaches nominated him for an All-State honor and Hartshorn was the recipient of the recognition.
"I was really surprised," Hartshorn said. "I was mostly surprised, but excited, too. That is a big honor as a freshman."
The Baldwin High School freshman was named to the second team All-State team as the utility player.
"A coach in our league nominated him for the utility player, which usually goes to a younger player, because they tend to play more positions," said Brock Hartshorn, T. Hartshorn's father, who also coached the Bulldogs this spring. "Taylor played eight positions for us this year at different times. Someone thought he had a good year and nominated him and he was named second team all-state."
T. Hartshorn played all positions on the field except catcher this spring. His eighth position was the designated hitter. At the plate, he batted .479 for the Bulldogs.
"I'm not sure what my secret was this year," T. Hartshorn said. "I just played hard and it worked out for me."
His father was proud of the season he had as a freshman.
"It was a proud moment for me, even though I'm no longer the coach," B. Hartshorn said. "For a coach from our league to nominate him at the state meeting shows that he had a good year and other coaches noticed him. As his father, I'm really proud of him and the season he had this year."
Hartshorn was also honored by the Frontier League. He was voted in as a second team all-league outfielder. Juniors Nate Growcock and Kyle Pattrick were also chosen for the all-league team. Growcock was honorable mention as a pitcher and a catcher, while Pattrick was honorable mention at second base.
Growcock had a batting average around .360. He also threw an eight-inning shutout against Spring Hill, which went on to finish second at the state tournament. Pattrick's batting average was .372 this spring.
"It was nice to see all of them recognized for their good seasons," B. Hartshorn said. "They were all deserving of the recognition."