Hannon earns All-American status in decathlon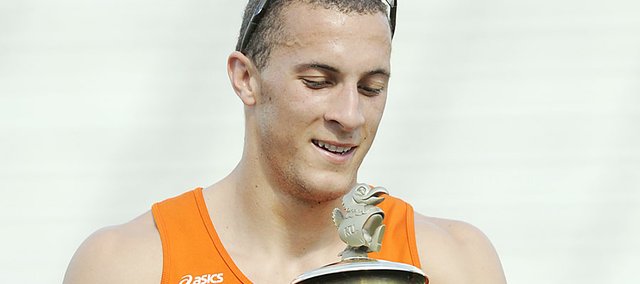 Aaron Hannon might not have had his best meet ever at the NAIA Outdoor Track and Field Championships, but he was still good enough to finish third in the decathlon.
Baker University coach Zach Kindler said his star multi-event athlete from Baldwin City fought through a less-than-perfect performance at the meet two weeks ago. Hannon, a 2006 Baldwin High School graduate, scored 6,827 points to place third and earn his first All-American status at the NAIA outdoor meet.
"It was one of those meets where we couldn't get anything clicking," Kindler said. "Overall, he only finished about 100 points shy of his personal best. So it's not that he did terribly bad. He just wasn't the normal Aaron Hannon. The great thing is he still ended up getting third and he was excited about it, as we all were, for him."
The event winner scored 7,026 points, while the runner-up finished with 6,993 points. Hannon's personal-best in the decathlon is 6,948 points.
"I think that any given weekend, Aaron can score 7,000 points," Kindler said. "It just didn't happen at the national meet."
In the third event of the first day, Hannon threw his best-ever toss in the shot put. He set a mark of 41 feet, 0.5 inches in the event. However, he had a scare in the next event.
Hannon fouled his first two attempts at his opening height of the high jump. On his third and final attempt at the height, he cleared the bar. He went on to clear 5-8.5 in the event.
"Aaron got started well with his 100," Kindler said. "In high jump, if he would have missed, it would have crushed his opportunity to be an All-American. I think he just does that to keep us coaches on our toes. Other than that, he had a good meet. The guy who won had a personal best in eight of the 10 events. He was a guy who had a great national meet. Aaron had a decent meet, but it wasn't his best score of the year."
Hannon continued to perform well, but had another hiccup in the pole vault. During competition, he broke his pole. He brought others, but they were too long for the height he was trying to clear. Luckily, he was able to borrow a pole and continue the event. Along with two other competitors, Hannon cleared 14-3.25 in the pole vault.
The second-to-last event was the javelin. Last year, Hannon strained his groin during the javelin and was unable to finish the final event, the 1,500-meter run. He was on pace to be an All-American in 2009, but he wouldn't be denied this year, as he finished all 10 events.
"It was very exciting for him to be an All-American as a junior this year," Kindler said. "Now he'll just set his goals on being a national champion next year."
Hannon wasn't the only Baker men's athlete to be an All-American at the national meet. Senior Kome Okiomah was an All-American in the 200-meter dash a year ago, but qualified in the 100-meter dash and 200 dash this season. Kindler tried figuring out which event might be better for his star sprinter, but Okiomah had his mind made up already. He was going to run the 100 dash.
"As a coach, I'm looking at all of the other times posted and I was concerned," Kindler said. "He looked at me and said, "Coach, I can run faster. I know I can run faster.'"
In the opening round of preliminary races, Okiomah finished in a time of 10.42, which was 0.21 seconds faster than his previous-best time. He ran 10.49 in the finals to finish third. He was 0.01 behind second place and ahead of fourth place.
"He just had one of those great meets," Kindler said. "He broke the school record again, as he ran 10.42. It was very exciting and I think that number will stand for a number of years."
Kindler was proud of both athletes and happy for their success.
"It was definitely a very exciting national meet with great weather and great atmosphere," he said. "It was a lot of fun. They were both excited about being an All-American, as we are for them."