Former state champions return for 100th anniversary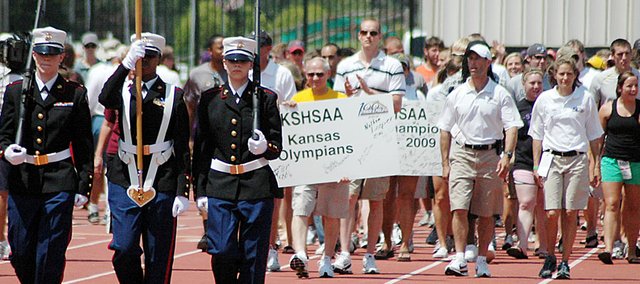 For the first time since 2002, all four members of the Noonan family were in Wichita for the state track and field meet on May 29.
Marilyn and Tom weren't there to cheer for their children, Megan or Matt, as they graduated from Baldwin High School in 2001 and 2002. Instead they were there to help celebrate 100 years of Kansas high school track and field.
The Kansas State High School Activities Association invited all former state champions in an individual event or relay from all classes to the 2010 state meet. The Noonan siblings combined to win seven individual state titles during their years at BHS.
"It's something I didn't want to miss out on, so I had to book my flight and run to my connection to make it here," said Megan (Noonan) Nelson, who lives in South Carolina. "In some ways, it's a lot like it always was, but a lot bigger."
Her brother, who works for a Kansas City engineering firm but is working in Canada right now, also wanted to be a part of the 100th anniversary.
"It's extremely fun to watch track and field at any level," Matt Noonan said. "I have a lot of good memories from my high school days of being here. It's a fun time.
"It's a great idea from the state of Kansas," he said. "I'm definitely honored to be a part of it."
Nelson even recalled the last time she attended the state meet. It was in 2002, when her brother narrowly missed winning all three distance races.
"I drove down and we watched him get owned by Eric (Black) in the 800," she laughed. "Of course, we watched his other races, too."
Eric Black, a fellow 2002 BHS graduate, beat Noonan in the 800-meter run during their junior and senior years. Neither won it as a freshman or sophomore at BHS.
Noonan won his six state titles in the 1,600- and 3,200-meter runs. He won both races three consecutive years (2000-2002). His sister brought home gold in the 3,200 run during her junior year (2001).
The Noonans were only two of the nearly 700 former state champions to return to attend the 100th anniversary. A handful of those athletes were Bulldogs or coach the Bulldogs now.
Brian Boyle, a Baldwin City resident, was one of the four members on the BHS boys' 3,200-meter relay that won gold in 1988. Boyle, along with teammate Rod Phillips, attended the 2010 state meet.
"It's great to be back here," Boyle said. "It brings back some great memories. I can remember each leg of the race and the teams we were going against. It's always fun to come down here since all of the classes are down here."
Also running on the 1988 state title relay was Eric Toot and Jim Paden. The Bulldogs ran 8:12.1 to win that year. Boyle still remembers the race, 22 years later.
"I was a freshman and I didn't know much better at the time," he said. "We had competed against all of those teams at the KT Woodman. Three teams had run better at the regional meets than we had. My split was four or five seconds faster than it had been all year. It was awesome."
A pair of former state champions from the 1980s also enjoyed the 100th anniversary. Mike and Angie Spielman, who coach BHS and Baldwin Junior High School track and cross country teams, were state champions for their respective high schools.
Mike won the 1,600 run in 1985 at Sabetha. He ran 4:24.6 to win his only state title.
"It was a neat deal that everybody got to come back and reminisce about the old times," Spielman said. "For me, it was exactly 25 years ago, so it was a neat deal to go back and see people."
His wife was a highly decorated athlete at Hillsboro. She won seven state titles in three years. In 1982, she won the 200- and 400-meter dash. The next year, Angie (Helmer) Spielman repeated as champion in both events, while also winning the 100-meter dash. In 1984, she won the 400 and the 800.
She enjoyed the event and the parade of champions, which was where all former state champions walked around the Cessna Stadium track with other champs from each decade.
"It was a lot of fun," Angie Spielman said. "The first person I saw was Tonya Gundy (former state champ from Burrton), who I ran with at KU and it had been at least 15 years or more since I last saw her. So we reminisced on some things. There were also three other women in the area that I raced against in the 400 and we all talked about things, like how the meet has changed since we were there. It was really cool.
"We reminisced about our races and the state track meet," she said. "We never got to run with the wind. We always had to run the same way, regardless of the wind. It was really neat to talk about all of that stuff again."
Both Spielmans were busy during the entire meet, as Mike coached the BHS boys' team and Angie helped the Ticker Timing crew at the finish line. Additionally, many of the former state champions, such as Boyle and Nelson, presented the 2010 medalists with their hardware on the awards stand.
"We had a lot of Baldwin people that went up and presented medals," Mike S. said. "I thought that was a really neat deal for those people to go up and have that chance. Some presented medals to their son or daughter or a family member."
His wife said KSHSAA did a great job of mixing the past with the present all weekend.
"One thing they tried not to do was take away from the athletes who qualified this year and they did a nice job of doing that," Angie S. said.
Boyle, who last attended the meet in 2005, when the BHS boys' 3,200 relay won the state title, thinks very highly of the state meet.
"It's a really great event," Boyle said. "It's amazing to think of all of the great track and field athletes from Kansas and a lot of them are here today. We've had a number of Olympians. To me, it's the single greatest event in the state."
For Noonan, the meet is still the same as it was eight years ago, when he was his last state title.
"It's almost identical," Noonan said. "I remember the stands being about halfway packed and the announcer getting the crowd involved in cheering for the athletes who were going for a state record. It's the same intelligent track atmosphere."
As the Noonan siblings left Saturday, a piece of BHS track history left with them. When asked about spending time with his sister, Noonan bit his tongue before choosing a polite response about his older sibling.
"It was great to see Meg," he said. "I only get to see her once or twice a year now. It's nice to have the whole Noonan family back at the state track meet. All seems right in the world."