BHS

softball players named to all-league team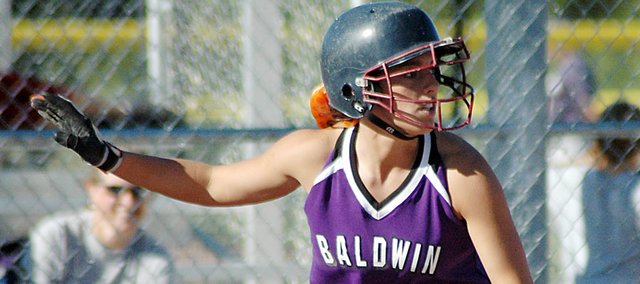 A pair of Baldwin High School softball players earned All-Frontier League honors this spring.
BHS senior MacKenzie Flory and junior Karlee Beach were named to the second team all-league. Flory was chosen as an outfielder and Beach was picked as a third baseman.
"Those were nice honors for both girls," coach Bob Martin said. "I felt like we had several girls that were deserving of the honors, but it's just the way it's set up and the way the voting went.
"I thought we were fortunate to get the two we had, but I thought we had several that could have been honored," he said. "Both of those girls had a good year and they were very deserving of the recognition."
Only nine girls were chosen on the first team all-league and nine more on the second team. The remainder of players were chosen for honorable mention.
Martin was happy for Flory and Beach, but thought others could have been chosen also.
"I thought Madeline (Brungardt) deserved to be all-league, but there are a lot of good shortstops," he said. "She was certainly one of the top eight infielders in the league, but there were too many good shortstops. That's the way it goes some years."
The Bulldogs finished sixth in the Frontier League. They had a 5-8 league record. Paola (12-2) won the league with De Soto (11-3) and Ottawa (11-3) tying for second place.
Gardner (7-7) and Eudora (6-8) finished ahead of the Bulldogs. Louisburg and Spring Hill finished tied for seventh with 2-12 league records.
Flory was the lone senior on the Bulldogs' squad.
"There were three very good teams and everyone else was fairly close," Martin said. "We were a very inexperienced team and we lost a lot of games that could have gone either way. Hopefully the law of averages will catch up to us and we'll be on the other side of those games. I think that we will as we get older and more experienced."