Battling bugs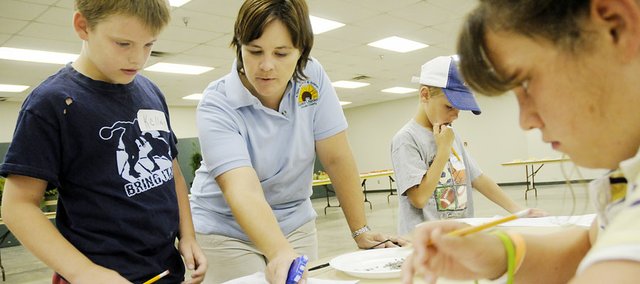 Jennifer Smith, Douglas County Extension agent-horticulture, answers a few questions about insects, which are getting more prevalent as spring turns to summer.
With the wet spring so far, are insects worse this year or did the cold winter help kill them off?
Unfortunately, even though we had some low temperatures, the almost-constant layer of snow insulated the soil throughout the winter. Many insects overwinter in the soil or in leaf litter and plant debris on the soil surface. K-State entomologists checked soil temperatures on the coldest nights in Manhattan. In December, when the air temperature reached -11 F, the soil temperature at 2 to 4 inch depths measured 34 F. Insects that overwinter above ground, like bagworms, often have protective structures that allow them to survive extreme weather conditions.
What are the most prevalent pests in our area?
My educated guess is mosquitoes and chiggers, but I rarely get questions about them. The pests that we see most often in the Extension office (brought in for identification/management recommendations:
Household/human health pests: spiders, fleas, ticks, ants, pantry moths - Indian meal moth, flour beetles, etc. Landscape pests: bagworms, aphids, spider mites.
Which insects should we be most concerned about?
I recommend being cautious about human health pests like brown recluse spiders, mosquitoes and ticks. Use sticky traps for spiders in your home or business, and take precautions to avoid mosquito and tick bites. On another note, I think we should be most concerned about bees and the decline in their population. Although there are other insects that pollinate certain kinds of plants, we are dependent on bees for much of our food supply.
What steps can be taken outside to prevent the pests?
Remove sources of standing water where mosquitoes can breed. Clean pet bowls and birdbaths regularly. Trim weedy areas and tall vegetation where ticks and chiggers like to reside. Keep plants healthy with good soil management and proper maintenance. Seal cracks and crevices on the outside of your home or other structures. Keep soil/mulch from direct contact with wood siding.
What about steps inside the house to guard against them?
Use sticky traps in corners and behind furniture. Keep food containers (including pet food) tightly sealed. Clean regularly.