Black Jack played out: Battle re-enacted for first time on 154th anniversary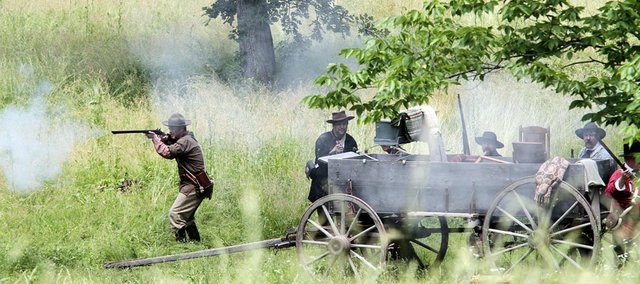 In a patch of prairie just off the Santa Fe Trail, a border ruffian from Missouri spotted John Brown and his men hiding in a patch of trees just across the clearing. He aimed his rifle and fired.
Some would argue that it would be the first shot in the first battle of the Civil War, even if it was fired five years before the official start of America's deadliest conflict.
That important moment in history was re-enacted in front of 1,500 people for the first time Saturday at the Black Jack Battlefield Nature Park near Baldwin City.
"You can hear about it, you can read about it. But when you actually see it in process, you get a feeling for what the people were doing, what it sounded like, what it smelled like. You can just get that visceral feeling that you can't otherwise," said Kerry Altenbernd, who was portraying the older version of John Brown with a thick white beard and heavy wool black coat.
Saturday's three re-enactments, which were being filmed and involved dozens of border ruffians and free staters, were part of an annual celebration of the Battle of Black Jack.
"This is where John Brown's first battle against slavery, his actual warfare against slavery, began," Altenbernd said.
Among those in the crowd were two of John Brown's descendants — Mary Buster of Emporia and Alice Keesey Mecoy of Allen, Texas.
After the gun smoke cleared, the two women gave a talk about what it's like to be related to one of the most controversial figures in American history.
Growing up just six miles from the Adair Cabin and John Brown Museum in Osawatomie, Buster said Brown's legacy was a part of her childhood. Buster's great-great-grandmother, Florella Adair, was Brown's sister.
Buster first realized the significance of the family tie when she was 8 years old.
"We went on a school field trip to Topeka to the Statehouse. My teacher told the guards that I was John Brown's great-great-grand niece. Well, they pulled me out of the line and had me sign the guestbook," Buster recalled. "And I realized it was something really important."
Today, Buster dresses up as Florella, portraying her during historical talks.
"You fall in love with the people that you are researching," she said.
Mecoy didn't know about her famous great-great-great-grandfather until she was 16 and a historian wanted to take a picture of her.
"We just didn't talk about it," Mecoy said of her family's link to Brown.
Mecoy first read of Brown in her school history book, a one-paragraph write-up that described him as a madman.
She later got bitten by what she described as the "John Brown bug."
"My kids went away to college. John Brown and his entire family moved into my house," Mecoy said.
Researching Brown and his family means uncovering bits and pieces of American history. And in the process she has come across some familiar family traits.
"I can be as stubborn as he was," she said.